News

Youka Nitta to Print Last Embracing Love Book in Fall

posted on by Egan Loo
Boys-love
creator quit her manga work last July after photo-tracing controversy
---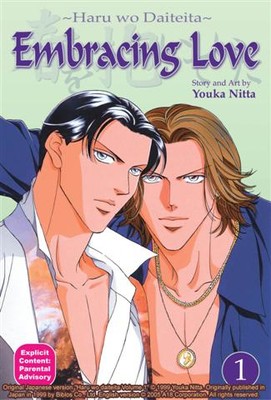 Boys-love manga creator Youka Nitta and Libre's Be-Boy Gold magazine editors have announced that Nitta has drawn the last installment of her Haru wo Daiteita manga. Libre will publish the final installment in the manga's 14th and final compiled book volume this fall. Nitta had announced last July that she would quit her manga work in the wake of revelations that she traced photographs in her works.
Nitta apologized at the time for tracing a fashion advertisement in her last published Haru wo Daiteita installment, although 55DSL, an offshoot from Italy's Diesel fashion label, described Nitta's copying of its advertising photograph as a "tribute." After the conroversy arose, Be-Boy Gold removed the next installment of Haru wo Daiteita from its following issue and has not published Nitta since.
In her new online message, Nitta apologized again to her readers for the controversy and thanked those that have sent her email messages and postal letters in the past year. She also reiterated her apologies to the copyright holders of the traced photographs, her manga artist peers in Be-Boy Gold, her drama CD label, and her publisher.
Central Park Media's Be Beautiful boys-love imprint published earlier installments of Haru wo Daiteita under the name Embracing Love in North America. Another North American distributor, Media Blasters, released the two-part animated video adaptation of Haru wo Daiteita under its Kitty Media label in May, and licensed its loose continuation Fuyu no Semi. California's Yaoi-Con 2008 convention had planned to host Nitta, who previously appeared at the 2006 New York Comic Con. However Yaoi-Con announced that Nitta would not be attending the convention shortly after the controversy arose.
Source: Boys Next Door Blog via MangaBlog
---