News

Beck, Battle Spirits, Ponta to Ensoku Promos Streamed

posted on by Egan Loo
---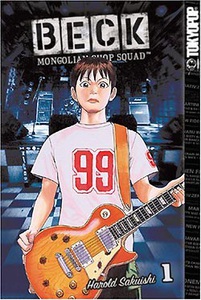 The official website of the live-action film adaptation of Harold Sakuishi's Beck manga began streaming a special 150-second "Evolution" video. (In the linked page, wait for the opening sequence to finish, select the film strip icon on the bottom left, and then select the "「Evolution」特別映像" menu option on top.) The "Evolution" video highlights the musical performances that the film will put onscreen.
The movie stars Takeru Sato as Koyuki, an ordinary high school student who is encouraged by the talented guitarist Rysuke Minami (Hiro Mizushima) to pick up a guitar. They decide to form a band called Beck with bassist Taira (Osamu Mukai), lead vocalist Chiba (Kanta Kiritani), and drummer Saku (Aoi Nakamura). Koyuki soon discovers his natural ability to play the guitar, and as his talent grows, the band finds success. Tokyopop published the original manga in North America, and the film will open in Japan on Saturday.

The official website of Nagoya's Mētele television station has begun streaming a 150-second preview video for the Battle Spirits: Brave anime series. This third television anime series based on Bandai's Battle Spirits card game will premiere on Sunday, September 12 at 7:00 a.m.
The independent anime studio Arplants began streaming a 30-second trailer for its original animation short "Ponta to Ensoku" on its channel on the YouTube website on Friday. The short revolves around a kitten named Ponta and Kenta, a second-grade boy who goes on a school trip. Arplants plans to release the short next spring. Ponta also appeared in two earlier "Koneko no Ponta!" preview videos from lat year.







[Via Walkerplus, Saishin Anime Jōhō, manuloz, Ain't It Cool News Anime]
Image © Sunrise, Mētele
---