News

Matsumoto Merchandiser Will Be Represented At Japan Arts Festival, London

posted on

2011-06-12

05:09 EDT
Zero Goods Universe coming to Conway Hall event, July 2-3.
---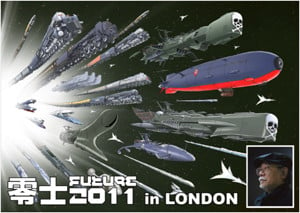 From the Japanese Art Festival website.
We are proud to announce that ZERO GOODS UNIVERSE from Japan will be appearing at the next Japanese Art Festival.

Zero Goods Universe are responsible for producing a range of items based on the work of famed Anime and Manga creator Leiji Matsumoto (Space Battleship Yamato, Captain Harlock).

Zero Goods will be showing samples of Matsumoto's artwork including the trailer for his new movie Space Pirate Captain Herlock. A range of dolls, accessories, watches, books, cards etc. will also be available.
(The reference to 'Captain Herlock' in the last line is as per the press release. A Captain Herlock anime was released in 2002; it was an OAV retelling of Captain Harlock, A new version of Captain Harlock was announced here.)
The two-day festival takes place at the Conway Hall venue in Holborn (map) on July 2-3.
---