News

Christmas Fight Club Games Event in Westminster, December 3

posted on by Andrew Osmond
---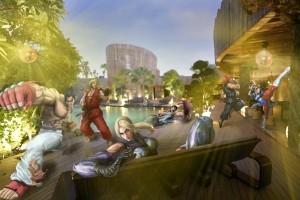 Capcom and Namco have announced they will hold a "Christmas Fight Club" free games event in Westminster on December 3. It will be attended by Katsuhiro Harada, who is the producer of the Tekken franchise and chief producer on the Soul Calibur franchise and the Tekken x Street Fighter game.
The venue is the Namco Station games centre at County Hall beside the Thames, near the Millennium Eye (map). There will be two different games sessions, from 10 a.m. to 1 p.m. and 2 p.m. to 5 p.m. Customers will be let in on a first-come, first-served basis (each session can accommodate 300 people). People at the first session can also join the back of the queue for the second, but there is no guarantee they will be admitted a second time.
The featured games will include Street Fighter X Tekken, Tekken Tag Tournament 2, Super Street Fighter IV: Arcade Edition, Tekken 6, Ultimate Marvel Vs Capcom 3, SoulCalibur V and Street Fighter III: 3rd Strike. There will be tournaments running in each session for Tekken Tag Tournament 2 and SoulCalibur V, and exhibition matches featuring "the UK's top players." There will also be free bowling, free pool and refreshments, a DJ and free-play arcade machines.
---
this article has been modified since it was originally posted; see change history