News

Ghibli's Arrietty Rises to #8 With $8.68 Million in 4 Days (Updated)

posted on by Egan Loo
Highest opening-weekend box office take of any Ghibli film
---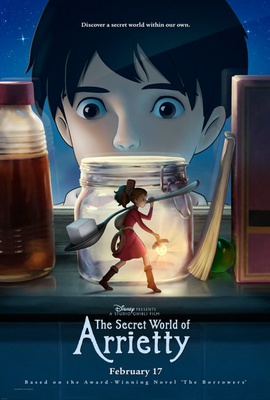 The Box Office Mojo website reported that Hiromasa Yonebayashi and Studio Ghibli's anime film The Secret World of Arrietty (Karigurashi no Arrietty) earned an estimated US$8,102,000 over the four-day President's Day holiday weekend in the United States. With the fourth day's tally included, the film now rises to #8 for the extended weekend.
The film had earned an estimated US$6.4 million under the three-day, Friday-Sunday tally to initially land at #9. Even with just the three-day tally, the film earned the highest opening-weekend box office take of any Ghibli film in the United States.
Ghibli already celebrated the film's three-day opening weekend tally with a posting on its front page on Tuesday.
The Secret World of Arrietty opened in Japan in July of 2010 and eventually earned 9.2 billion yen (about US$115 million) as the number #1 film of 2010 in Japan.
In his directorial debut, Yonebayashi re-imagines Mary Norton's 1952 novel The Borrowers by moving the story to a Tokyo suburb. The story revolves around Arrietty, a member of the "little people" who live under the floorboards of a regular human family's home. Arrietty's family tries to remain hidden from the human "beans." Walt Disney Pictures is giving the film the widest opening (1,522 theaters) for a Studio Ghibli film in North America to date.
Source: The Hollywood Reporter
Update: Box Office Mojo reports that the final four-day tally of the film is US$8,684,864, an increase of US$582,864 from the estimate. The final three-day tally is US$6,446,395, an increase of US$46,395. Thanks, bravetailor.
---
This article has a follow-up:
Ghibli's Arrietty Drops to #14 in 3rd Weekend
(2012-03-04 13:05)
follow-up of
Ghibli's Arrietty Opens at #9 with US$6.4 Million (Updated)