News

Beyblade: Metal Fury to Include New BeyWheelz Series

posted on by Ko Ransom
New toyline, animated series with Japanese studio unveiled in N. America first
---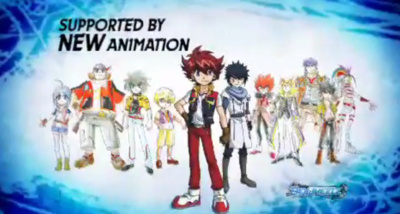 The Canadian entertainment company Nelvana announced on Tuesday that Beyblade: Metal Fury, the upcoming English-language adaptation of the Metal Fight Beyblade 4D anime, will include an all-new BeyWheelz "chapter." The BeyWheelz story has not aired in Japan or any other country before.
Nelvana describes Beyblade: Metal Fury's story: "In part 3 of the Beyblade saga (Metal Fury), the world is at a tipping point in the battle between good and the ultimate evil. The key to earth's salvation or destruction lies within 10 meteor stones that empower its masters to fight for their chosen side."
BeyWheelz is a separate storyline set "in the futuristic city of Destection where our hero, Sho, is champion of the BeyWheelz World Tournament! This peaceful city is home to exciting and challenging battles between friends and allies until suddenly the city is attacked by an evil BeyWheelz army called the Dominators."
The original Metal Fight Beyblade 4D anime premiered last April with 26 22-minute episodes and 26 11-minute episodes. However, Nelvana states that Beyblade: Metal Fury and BeyWheelz combined will have 52 episodes. According to a document published by the Writer's Guild of Canada, at least 13 episodes of the BeyWheelz series have been planned for production.
Although little information has been revealed on the animation production of the BeyWheelz episodes, Pioneer Production, a Japanese anime subcontracting studio, lists BeyWheelz in its production roster.
Metal Fight Beyblade Zero-G, the seventh Beyblade anime series, will begin airing in Japan on April 8 after Metal Fight Beyblade 4D ends. Another anime with a toy tie-in, Baku Tech! Bakugan, will premiere on April 7 as shorts within the Oha Colo Up! on April 7. Nelvana has adapted the previous Bakugan anime into English, but it did not announce plans to present a new Bakugan project at MIPTV, the television market trade show which will be held in France next month.
[Via I Miss Bionix]
---