News

MTV Japan Announces 5th Season of Usavich Comedy

posted on by Lynzee Loveridge
Two troublesome rabbits' exploits continue with December premiere
---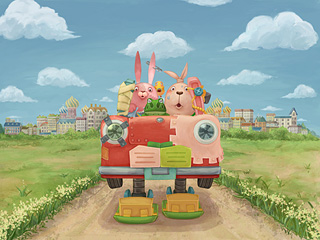 MTV Japan confirmed on Friday that the fifth season season of the computer-animated television series Usavich will premiere in December. The television station also announced that online streaming for the series is planned, with details to be revealed in the future.
The comedy follows Putin and Kirenenko, two rabbits who have escaped from a Russian prison.
Kanaban Graphics studio, which animated these shorts, also animated the Petit Eva - [email protected] shorts, sequences in both Katsuhide Motoki's live-action GeGeGe no Kitarō 2 and Katuhito Ishii's Funky Forest films, and Shunichiro Miki's Hal & Bons videos. Usavich's fourth season premiered in 2011.
---