News

1st Tiger & Bunny Film Opens With 117+ Million Yen

posted on

2012-09-24

15:19 EDT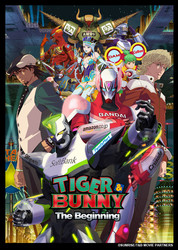 Gekijō-ban Tiger & Bunny -The Beginning-, the first of two anime films based on Sunrise's Tiger & Bunny television anime series, earned 117.65 million yen (about US$1.51 million) in its opening weekend.
This number includes the earnings for the one-time live-viewing event that was simulcast into 113 theaters across Japan this weekend. A total of 24,340 people attended that event, and another 49,073 people saw the film in its general opening in 70 theaters over the weekend.
The film ranked at #5 for box office earnings for the weekend of September 22-23.
The second film in the franchise, Gekijō-ban Tiger & Bunny -The Rising-, will open next fall.
Sources: Movie Walker (link 2), Hirō Otaka via Yaraon!
---
This wide-ranging parody of chuunibyou tropes pushes the envelope in some eyebrow-raising ways, but it's still bound to offer otaku fans a fun read.
― Whether you have a weird sibling or are the weird sibling, families often have dynamics that can feel odd to an outside perspective. In the case of Yuichi Sakaki's family in My Big Sister Lives in a Fantasy World, his older sister Mutsuko suffers from ...
If you prefer your beefcake a little more well-done than the baby-faced teens we usually get in anime, these dashing dads are sure to leave you swooning with their worldly charms.
― Attractive teenagers are par for the course in anime, with the occasional sexy office worker thrown in for variety, but handsome older men, especially older men with kids, is a much narrower and under-appreciated type of...
Both the visual ambition and depth of story in the Ancient Magus's Bride take a leap forward in this memorable volume.
― The Ancient Magus' Bride's recent volumes have been reasonably focused affairs, prioritizing Chise and Elias' collective character development over the whimsical vignettes of the manga's early chapters. This fifth volume marks a return to episodic storytelling, as the leannan sidhe...
Back in the 80s, comedy anime characters would make cameo appearances in other anime all the time - why doesn't that happen anymore? Justin explains.
― Phoenix asks: Whatever happened to anime cameos? I feel like in the 80s and 90s they were relatively abundant. The Dirty Pair and Crusher Joe seemed to make it into every other 80s anime. Why, I was just watching Macross and wouldn't you know it, the...
Erstwhile co-host and current Answerman Justin Sevakis stops by the podcast to catch up on anime and industry news! Gundam on Hulu, Ghost in the Shell: Innocence and much more!
― ANNCast Episode 287 - Sevakis of Death Erstwhile co-host and current Answerman Justin Sevakis stops by the podcast to catch up on anime and industry news! Gundam on Hulu, Ghost in the Shell: Innocence and much much more! Yo...
This gentle kids' show about a helpful serval cat has taken the internet by storm after an unassuming premiere. What makes it so popular?
― What is this season's breakout anime hit? One might think it's the second season of the already popular KONOSUBA - God's blessing on this wonderful world! Or maybe it's one that relies on cute girls to cater to the otaku crowd while delivering gentle comedic fun,...
After lingering in licensing limbo for many months, The Great Passage is finally available streaming! Gabriella Ekens explores whether this uniquely low-key drama is worth watching.
― Before it fell victim to the Amazon anime hostage crisis of Fall 2016, The Great Passage was one of my most anticipated shows of that season. Based on an acclaimed novel, airing in the celebrated Noitamina programming b...
While the top of the rankings start to solidify, plenty of long-running shounen favorites duke it out for a spot in the center! Find our where your favorites landed this week!
― Our team of reviewers are following 27 anime series of the Winter 2017 season and readers are rating each episode as the reviews go up. So let's have a look at what ANN readers consider the best (and worst) of the season. Ke...
Dustin takes the latest Digimon RPG out for a spin, along with the remake of Princess Maker! PLUS: Capcom's comeback and next week's new releases!
― I like to touch things. No, not in a creepy way. I'm talking about hanging onto physical goods in a world increasingly dominated by digital media. The benefits of digital libraries are clear: no shelf space, portability between platforms, and increased a...
Interviews With Monster Girls is more charming than not, even as its harem elements trip it up on occasion.
― There's almost no way to phrase the premise of this series without it sounding creepy. High school biology teacher Tetsuo Takahashi has always been fascinated by the human variations straight out of mythology known as demi-humans, but he had to give up writing his thesis on them in university...