News

Japanese Box Office, December 8-9

posted on by Crystalyn Hodgkins
---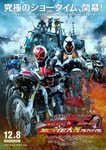 The Kamen Rider × Kamen Rider Wizard & Fourze: Movie Taisen Ultimatum film debuted at No. 1 during the December 8-9 weekend. The film earned US$3,424,137 on 298 screens.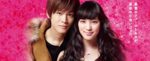 The live-action film adaptation of Kanan Minami's Kyō, Koi o Hajimemasu shōjo romance manga debuted at No. 3. Emi Takei (live-action Rurouni Kenshin's Kaoru, Ai to Makoto's Ai) stars as the old-fashioned "Showa-era girl" Tsubaki Hibino opposite Tori Matsuzaka (We Can't Change the World. But, We Wanna Build a School in Cambodia, Samurai Sentai Shinkenger, .hack//The Movie), who plays a "modern" boy named Kyōta. Takeshi Furusawa (Ghost Train, Another) directed the film. The film earned US$2,739,488 on 301 screens.

The Evangelion: 3.0 You Can (Not) Redo (Evangelion Shin Gekijō-ban Q) film fell from No. 2 to No. 4 during its fourth weekend. The film is the third in Hideaki Anno and Khara's four-part remake of Gainax's Neon Genesis Evangelion anime series. The film earned US$2,273,078 on 128 screens for a new total of US$50,391,935.

The Inazuma Eleven Go vs. Danbōru Senki W film fell from No. 3 to No. 5 during its second weekend. The crossover film between the two Level 5 franchises earned US$1,163,038 on 270 screens for a gross-to-date of US$3,572,661.

Takashi Miike's (Yatterman, Phoenix Wright: Ace Attorney) live-action adaptation of Yūsuke Kishi's (From the New World) Aku no Kyōten (Lesson of the Evil) psychological suspense novel fell from No. 4 to No. 6 during its fifth weekend. The film stars Hideaki Ito (Onmyoji, Sukiyaki Western Django) as an always-smiling and popular high school teacher who is also a psychopath who begins to murder his students. The film earned US$1,156,713 on 309 screens for a new total of US$24,186,126.

Eiga Smile Precure: Ehon no Naka wa Minna Chiguhagu!, the newest movie in the Precure magical girl anime franchise, fell from No. 11 to No. 13 during its seventh weekend. Along with the Smile Precure television anime's cast, Megumi Hayashibara (Evangelion, Ranma ½, Cowboy Bebop, Slayers, Mardock Scramble) voiced a guest role in the newest film. The story has the Cure magical girls journeying through a storybook world. The film earned US$189,978 on 146 screens for a new total of US$10,379,456.
Sources: Kogyo Tsushinsha, Box Office Mojo
---
This article has a follow-up:
Japanese Box Office, December 15-16
(2012-12-26 18:30)
follow-up of
Japanese Box Office, December 1-2