×
remind me tomorrow
remind me next week
never remind me
Subscribe to the ANN Newsletter • Wake up every Sunday to a curated list of ANN's most interesting posts of the week.
read more
News

Japanese Box Office, December 15-16

posted on by Crystalyn Hodgkins
---

One Piece Film Z debuted at #1 during the December 15-16 weekend. The film features "Z" (Zetto), the Straw Hat pirate crew's "strongest enemy yet" who was designed by original One Piece manga creator Eiichiro Oda. Oda served as the executive producer of this film, as he did for the 10th feature film, 2009's One Piece Film Strong World. The film earned US$16,681,502 on 300 screens for a per-screen average of US$55,605.

The film version of the 2011 live-action television series based on the classic supernatural adventure anime Humanoid Monster Bem (Yōkai Ningen Bem) debuted at #2. Key cast and staff from the television show returned for the film, including KAT-TUN's Kazuya Kamenashi (playing the title character), model/actress Anne (playing Bera), and child actor Fuku Suzuki (playing Berro), as well as writer Masafumi Nishida (Tiger & Bunny) and director Shunsuke Kariyama. The film ranked at No. 3 on Box Office Mojo's chart and earned US$2,508,520 on 331 screens.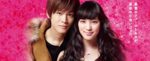 The live-action film adaptation of Kanan Minami's Kyō, Koi o Hajimemasu shōjo romance manga stayed at No. 3 in its second weekend. Emi Takei (live-action Rurouni Kenshin's Kaoru, Ai to Makoto's Ai) stars as the old-fashioned "Showa-era girl" Tsubaki Hibino opposite Tori Matsuzaka (We Can't Change the World. But, We Wanna Build a School in Cambodia, Samurai Sentai Shinkenger, .hack//The Movie), who plays a "modern" boy named Kyōta. Takeshi Furusawa (Ghost Train, Another) directed the film. The film ranked at No. 4 on Box Office Mojo's chart and earned US$2,325,519 on 301 screens for a gross-to-date of US$7,191,956.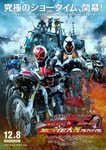 The Kamen Rider × Kamen Rider Wizard & Fourze: Movie Taisen Ultimatum film fell from No. 1 to No. 4 during its second weekend. The film ranked at No. 5 on Box Office Mojo's chart and earned US$2,073,214 on 298 screens for a new total of US$6,425,736.

The Evangelion: 3.0 You Can (Not) Redo (Evangelion Shin Gekijō-ban Q) film fell from No. 4 to No. 7 during its fifth weekend. The film is the third in Hideaki Anno and Khara's four-part remake of Gainax's Neon Genesis Evangelion anime series. The film earned US$1,611,573 on 127 screens for a new total of US$53,795,872.

The Inazuma Eleven Go vs. Danbōru Senki W film fell from No. 5 to No. 9 during its third weekend. The crossover film between the two Level 5 franchises earned US$834,222 on 270 screens for a gross-to-date of US$4,573,350.

Takashi Miike's (Yatterman, Phoenix Wright: Ace Attorney) live-action adaptation of Yūsuke Kishi's (From the New World) Aku no Kyōten (Lesson of the Evil) psychological suspense novel fell from No. 6 to No. 10 during its sixth weekend. The film stars Hideaki Ito (Onmyoji, Sukiyaki Western Django) as an always-smiling and popular high school teacher who is also a psychopath who begins to murder his students. The film earned US$520,171 on 309 screens for a new total of US$25,753,107.
Eiga Smile Precure: Ehon no Naka wa Minna Chiguhagu!, the newest movie in the Precure magical girl anime franchise, fell from Box Office Mojo's list during its eighth weekend.
Sources: Kogyo Tsushinsha, Box Office Mojo
---
This article has a follow-up:
Japanese Box Office, December 22-23
(2013-01-03 19:00)
follow-up of
Japanese Box Office, December 8-9