News

Takeshi Nogami's Marine Corps Yumi Manga Posted in English

posted on by Sarah Nelkin
---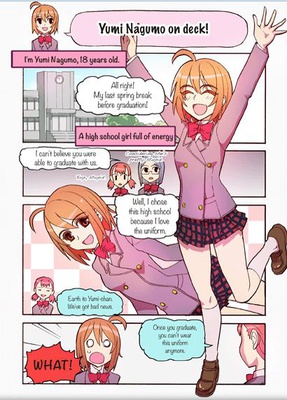 Manga creator Takeshi Nogami (Sailor-fuku to Jūsensha, Yamato Nadeshiko Zero Zero Seven) launched the online manga Marine Corps Yumi in English at the Sai-Zen-Sen website on Tuesday. Nogami released the first chapter of the manga on the same website in Japanese last year. Anastasia Moreno translated the manga for the English release, and each new four-page chapter will be released in English on the website for free every Tuesday.
The story follows an ordinary Japanese high school student Yumi as she pursues her goal of joining the Marine Corps of "Amerigo." The first four-page chapter features a cameo appearance by U.S. President Barack Obama.
In addition to his original manga, Nogami created several dōjinshi and spin-off manga based on the Strike Witches franchise. Kadokawa Shoten's online magazine Kadokawa Niconico Ace published his Strike Witches: The Witches of Andorra manga with an English translation. Nogami also co-created The Witches of the Sphinx dōjinshi with Takaaki Suzuki, the historical adviser on the Strike Witches anime series.
[Via Dan Kanemitsu]
---