News

Live Soundtrack Barbican Screening of Tekkonkinkreet in October

posted on by Andrew Osmond
British musicians Andy Turner and Ed Handley perform their score to screening of urban fantasy film on October 9.
---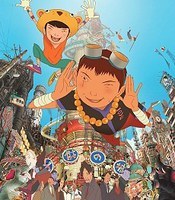 The Barbican Centre in London will hold a special screening of the urban anime fantasy Tekkonkinkreet (right) in October, with a live performance of the soundtrack from its creators, the British electronic musicians Andy Turner and Ed Handley of Plaid.
From the Barbican announcement:
British electronic music duo Plaid will perform their score with strings and percussion for Michael Arias's award winning animé film, Tekkonkinkreet. Based on Taiyō Matsumoto's manga series of the same name, the film is visually inspired by Fernando Meirelles's film City of God. Set in the fictional city of Takaramachi (Treasure Town), the film follows a pair of orphaned street kids as they deal with gangsters or 'yakuza' attempting to take over the city. Written in 2006, the score represents Plaid's first foray into soundtrack work and combines electronics, instrumentation and even pop and jazz elements. It forms an integral part of the story and this is an opportunity to experience the film on a big screen with live performance of the music.
The performance is on Wednesday October 9 at 8 p.m., with tickets available here. The screening is rated '12.'
Tekkon Kinkreet - © 2006 Taiyo Matsumoto/Shogakukan, Aniplex, Asmik Ace, Beyond C, dentsu, TOKYO MX.
---