News

Kyoto Animation Streams 1st Beyond the Boundary: Idol Trial Short

posted on by Sarah Nelkin
Girls transform into idols to give verdict to Akihito on the charge of being "gross."
---
Kyoto Animation began streaming the first anime short for the Beyond the Boundary television anime on Monday.
In the short titled, "Kyōkai no Kanata: Idol Saiban! - Mayoi Nagara mo Kimi o Sabaku Tami (Beyond the Boundary: Idol Trial! ~Even as You Waver, The Nation Judges You~), Akihito is on trial on the charge of being "gross." Judging him are a panel of cute super-deformed versions of Mirai, Sakura, and Mitsuki. Ai takes the position of presiding judge, which she says she only became this since she was voted, and is troubled by the responsibility.
In his head, Akihito thinks, "You sure don't look troubled," and also realizes that Ai enjoys being the center of attention. After Mitsuki gives proof of Akihito's "grossness," the girls announce the verdict…. But not before changing into idol outfits, singing, and dancing. Akihito's punishment is having Mirai's glasses broken. He is utterly distraught, but Mirai is also unhappy.
The ending theme of the short is "Poppy no Kaeri Michi" (The Road Home Filled With Poppies) by Yuri Yamaoka (voice of Ai).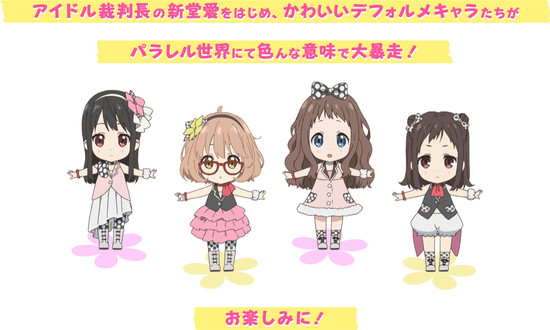 There are three shorts scheduled, with the next episode to stream on December 2. They are not tied to the story of the television anime, and have the following premise: As long as evil is rampant in this world, four "angels" will judge your sins.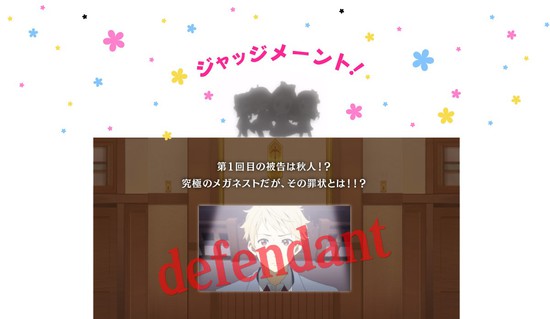 The dark fantasy story of the main Beyond the Boundary anime follows a high school second-year student named Akihito Kanbara (KENN). Although the boy appears human, he is half Yōmu and invulnerable to wounds because he can heal quickly. One day, Akihito meets first-year student Mirai Kuriyama (Risa Taneda) when it seems she is about to jump from the school rooftop. Mirai is isolated because of her ability to manipulate blood, which is unique even among the Under World Warriors. Disturbing events begin to unfold after Akihito saves Mirai.
Taichi Ishidate (episodes of Clannad After Story, Hyōka, K-ON) is directing the anime at Kyoto Animation, and Jukki Hanada (Gakuen Alice, Chūnibyō demo Koi ga Shitai!, Steins;Gate) is in charge of the series scripts. Miku Kadowaki (The Disappearance of Haruhi Suzumiya, K-ON! movie animation director) is designing the characters.
The anime premiered in Japan last month, and Crunchyroll is streaming the anime into several countries as it airs. Sentai Filmworks also announced last month that it licensed the anime for North America.
Nagomu Torii's original Kyōkai no Kanata light novel received an honorable mention in the novel category of the Kyoto Animation Award program in 2011. The studio released the first volume last year, and the second volume shipped in April.
Images © Nagomu Torii, Kyoto Animation/Beyond the Boundary Production Committee
---