News

Sakigake!! Otoko Juku Gets Spinoff Series Next Month

posted on by Emma Hanashiro
Chiwa Omatsu will draw the new series titled Otoko Juku Gaiden Date Omito
---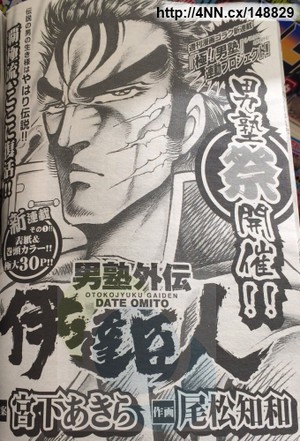 The May issue of Nihon Bungeisha's Bessatsu Manga Goraku magazine announced on Monday that a spinoff of Akira Miyashita's Sakigake!! Otoko Juku manga will debut in April. Chiwa Omatsu will draw the new series, titled Otoko Juku Gaiden Date Omito.
The original manga about a private school for juvenile delinquents was published from 1985 to 1991 and sold 26 million volumes. It inspired a 1988 animated television series and movie, as well as a live-action film by director and actor Taku Sakaguchi. Miyashita launched his own spinoff, Akatsuki!! Otoko Juku - Seinen yo, Taishi o Idake in Shueisha's Super Jump magazine from 2001 to 2010.
The manga also inspired games for Famicom (NES), Game Boy, PlayStation, and PlayStation 2. A new PlayStation 3 game titled Sakigake!! Otoko Juku Nihon yo, Kore ga Otoko Dearu! (Japan, These Are Men!) shipped on February 27.
---
RightStuf - Anime, Manga and More