×
remind me tomorrow
remind me next week
never remind me
Subscribe to the ANN Newsletter • Wake up every Sunday to a curated list of ANN's most interesting posts of the week.
read more
News

Viz Offers Welcome to the N.H.K., Metamo Kiss, AiON Manga Digitally

posted on by Karen Ressler
3 titles previously licensed by
Tokyopop
---

Viz Media announced on Monday that it will release Tatsuhiko Takimoto and Kendi Oiwa's Welcome to the N.H.K., Sora Omote's Metamo Kiss, and Yuna Kagesaki's AiON manga digitally. All three were previously licensed by Tokyopop.
The first volume of Welcome to the N.H.K. is slated for June 16. Viz Media describes the story:
Twenty-something-year-old Satou, a college dropout and aficionado of anime porn, knows a secret – or at least he thinks he does! Believe it or not, he has stumbled upon an incredible conspiracy created by the Japanese Broadcasting Company NHK. But despite fighting the good fight, Satou has become an unemployed Hikikomori – a shut-in who as withdrawn from the world... One day, he meets Misaki, a mysterious young girl who invites him to join her special "project." Slowly Satou comes out of his shell and his hilarious journey begins: filled with mistaken identity; panty shots; Lolita complexes--and an ultimate quest to create the greatest hentai game ever!
Tokyopop released Oiwa's manga series from 2006-2008, and also published Takimoto's original novel in 2007. FUNimation Entertainment currently holds the North American rights for the anime adaptation.

The fist volume of Metamo Kiss is slated for June 23. Viz Media describes the story:
Kohamaru comes from a peculiar family – each member can switch bodies with his or her soul mate! His parents can switch bodies, and his aunt, oddly enough, can switch with her cat! Now, it's Kohamaru's turn... When Kohamaru literally runs into Nanao, the girl of his dreams, they switch bodies. True love, right? Well, unfortunately, she's in love with someone else. And if that weren't bad enough, the "someone else" turns out to be Kohamaru's twin brother Konatsu...who can reverse their transformation with his own kiss!
Tokyopop released the three-volume series in 2007.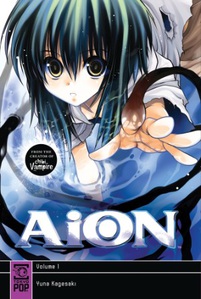 The first volume of AiON (Hekikai no AiON) is slated for June 30. Viz Media describes the story:
In this series from Yuna Kagesaki (Chibi Vampire), mermaids and mind-controlling parasites wage war of supernaturally epic proportions in this highly anticipated series! Tatsuya Tsugawa has just lost both of his parents in a car accident. While trying to live up to his father's dying wish of becoming an upstanding man, Tatsuya rushes to help Seine – his bizarre classmate – from bullies. Little does he know he is about to find himself in the middle of a supernatural war between the immortal Seine and sea creatures that can control humans. So much for being Mr. Nice Guy!
Tokyopop released the first three volumes of the 11-volume series from 2010-2011.
---