News

Miles Edgeworth to Appear in Ace Attorney 6 Game

posted on by Karen Ressler
Image also shows Simon Blackquill, other returning and new characters
---
The preview image for video game news magazine Famitsu's May 26 issue revealed a key visual showing the main characters for Capcom's upcoming Gyakuten Saiban 6 (Ace Attorney 6) Nintendo 3DS game on Tuesday. The visual reveals that Reiji Mitsurugi (Miles Edgeworth) will appear in the game.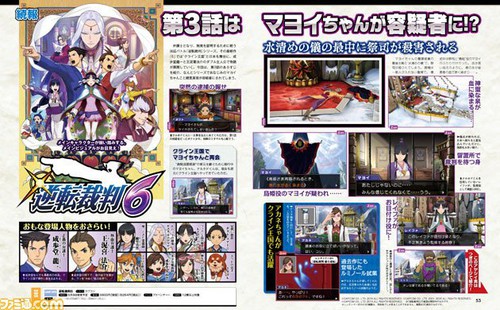 The preview image also shows returning characters Phoenix Wright, Apollo Justice, Maya Fey, Athena Cykes, Ema Skye, Trucy Wright, and Simon Blackquill. New characters include Leifa Padma Kurain, Bokuto Tsuani, Mitamaru, and rival prosecutor Nayuta Sadmadhi.
The magazine will ship on May 12 and reveal details on the game's third chapter.
Capcom is hosting a livestream event on May 17 with more information.
The game's theme is a "courtroom revolution." The game is set in a country called the Kurain Kingdom, a "country of mystery and faith." The game contains a "Courtroom of Resignation" where defendants are only told to give up, as the Kurain code of law decrees that the court needs no lawyers. The game will feature two protagonists: Phoenix Wright and Apollo Justice. While Phoenix's story will be set in the Kurain Kingdom, Apollo's story is set in Japan. The "Mood Matrix" system from the Phoenix Wright: Ace Attorney – Dual Destinies game will return in Ace Attorney 6.
The game will ship in Japan on June 9, and it will retail for 5,800 yen (about US$51) for the package version and 5,546 yen (US$48) for the download version. Those who purchase the limited edition of the game will have access to two extra short stories in the game. One scenario will revolve around Phoenix Wright in Kurain, and the other will revolve around Apollo Justice in Japan.
From June 9-29, players will be able to download a free costume pack with three limited time costumes: a Furio Tigre (Toranosuke Shibakuzō) outfit for Phoenix Wright, a student uniform for Apollo Justice, and a Trés Bien waitress uniform for Athena Cykes (Kokone Kisuke). The game's official website includes preview images of the costumes.

The official website streamed the game's eight-minute prologue anime video in March.
Source: Famitsu via Nintendo Everything, Siliconera]
---