News

Gundam: Iron-Blooded Orphans Season 2 Unveils Promo Video, October 2 Debut, Overseas Plans (Update 2)

posted on by Rafael Antonio Pineda
New visuals, updated character & MS profiles also posted
---
The Gundam.info portal site began streaming a promotional video for the second season of the Mobile Suit Gundam: Iron-Blooded Orphans anime on Monday. The video reveals the anime's October 2 premiere at 5:00 p.m. on MBS, TBS, and 26 other channels, as well as through streaming.
Anime Consortium Japan's (ACJ) Anime Now! news site reports that overseas streaming is confirmed for an unspecified number of countries and territories.
The anime's official website unveiled a new visual for the second season.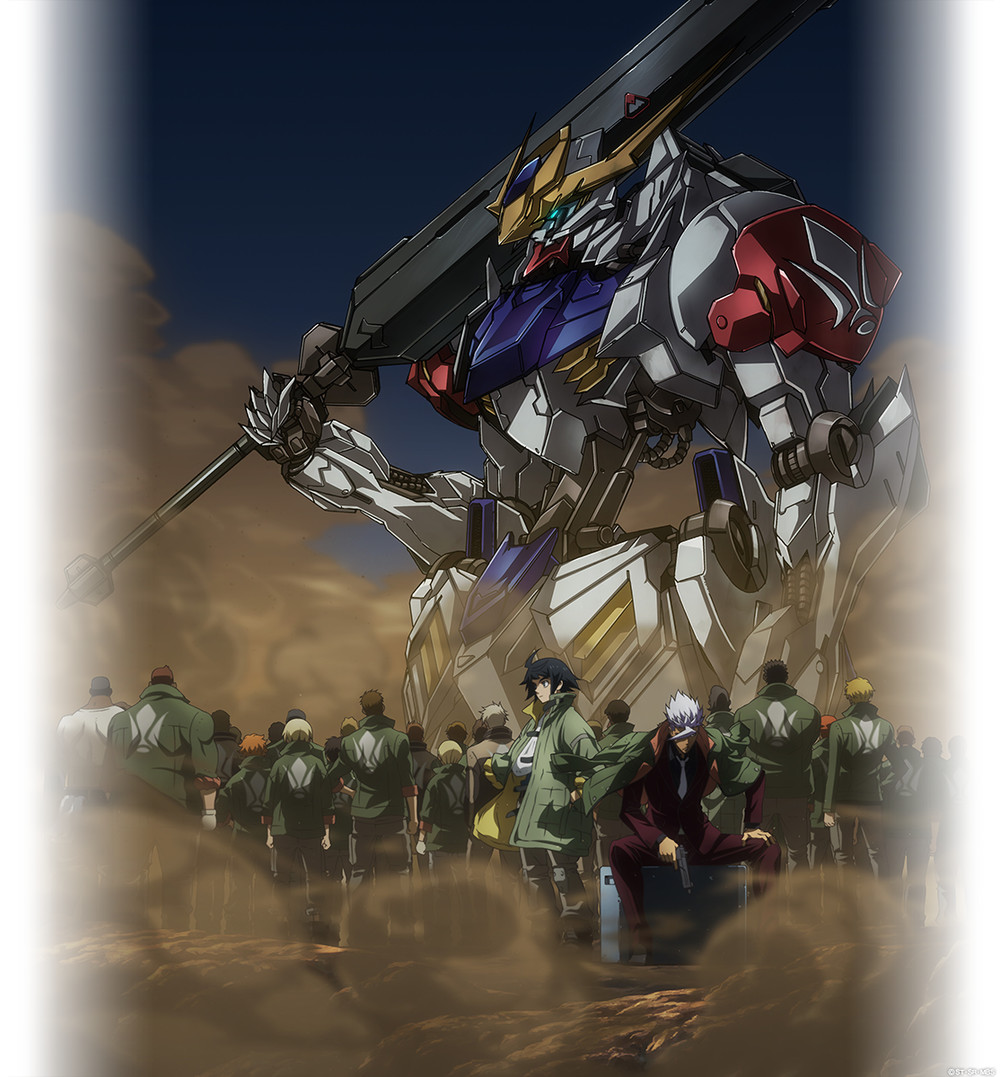 The site also revealed character visuals and descriptions, as well as the new Gundam Barbatos Lupus, a newly upgraded form of the Gundam Barbatos that Mikazuki piloted in the first season. The descriptions contain spoilers for the first season [Highlight the white text below to view spoilers].


Mikazuki Augus: Spoilers: [A boy affiliated with the Tekkadan. Due to overuse of the Alaya-Vijnana system, he loses sight in his right eye and the use of his right arm. Because he regains the use of both only while connected to the Alaya-Vijnana system, he keeps on fighting as the pilot of the Gundam Barbatos Lupus.]



Orga Itsuka: Spoilers: The leader of the Tekkadan. He achieved his goal of making a name for the Tekkadan during the battle surrounding the Arbrau elections. As a result, the Tekkadan has grown under his watch. However, he is still unstoppable in his will to protect the Tekkadan members, which he considers as family.]



Gundam Barbatos Lupus: Spoilers: The mobile suit that Mikazuki Augus pilots. After many battles, and upgrades from Teiwaz, it has taken on a new form, with enhanced weaponry. The mobile suit is one of the Gundam Frames used in the Calamity War 300 years ago.]

The 25-episode first season premiered in Japan last October. Daisuki, Gundam.info, and Hulu streamed the series as it aired. Crunchyroll and Funimation streamed new episodes one week after they aired. Adult Swim's Toonami block began airing the anime with an English dub in June.
Tatsuyuki Nagai is helming the show at Sunrise, with Mari Okada handling series composition. Yu Ito (Shut Hell, Imperial Guards) drew the original character designs, while Michinori Chiba designed the characters for animation (Mobile Suit Gundam 00, Mobile Suit Gundam AGE). Naohiro Washio, Kanetake Ebikawa, Ippei Gyōbu, Kenji Teraoka, and Tamotsu Shinohara are designing the mechas for the show. Kusanagi is in charge of art design, and Masaru Yokoyama is composing the music.
Update: Anime Now! has removed the information on streaming and broadcast plans in over 100 countries, pending confirmation from Sunrise.
Update 2: Anime Now! confirmed overseas streaming for an unspecified number of countries and territories.
---