For the 1st Time Australian Cosplay Champions Take the Challenge to Japan
JAPAN, NAGOYA - July 30, 2009 - Winners of the Australia World Cosplay Summit Preliminary Competition have landed in Japan and are preparing for a hectic week leading up to the World Championship on August 2.
The Australian champions, Cattypatra (aka Gabriella Lowgren) and Tsubaki (aka Katherine Lee), were chosen in 2008 where they competed at the Animania Festival held at the The Australian Technology Park. There was a high level of competition with entrants participating from all around Australia.
Cosplay is a truncated term for the phrase 'Costume play'. It refers to the act of dressing up as a favourite character, typically from a Japanese anime, manga, and more recently, Japanese video games.
The competitors from each country have a packed schedule that includes karaoke, conferences, international press, dignitaries, and cosplay parades through the streets.
The Australian champions will be giving their full report of their travels and a repeat performance at the Animania Festival Sydney, on September 6 2009.
Animania Festival is proud to host the World Cosplay Summit (WCS) Preliminary Competition, placing Australian cosplay onto the global stage. This year is the first time ever that Australia has been represented at the World Cosplay Summit (WCS). Animania Festival 2009 will be held at (name of venue) over the weekend of September 5/6 with expectations for more Cosplay characters than ever before.
An international competition, the WCS draws cosplayers from around the globe, including Germany, Finland, Italy, Brazil and America. Last year's preliminary competition saw Australian Cosplayers and supporting fans alike rally to present the best costumes.
These 'Cosplayers' bring their character to life on stage. Quite often a labour of love, Cosplayers may spend months creating the ultimate costume that will pay homage to their favourite character. What results is not only a costume that is stunningly alike to the original characters but a show of the cosplayer's talent and craftwork.
ABOUT ANIMANIA FESTIVAL: Since 2002 the Animania Festival has been celebrating Japanese pop-culture with events around Australia. Key interests of fans attending include Anime (Japanese Animation), Manga (Japanese Comics) and Cosplay (Costume Competitions and Parades). Animania Festival has partnered with the OzAsia Festival to bring Animania to Adelaide for the first time in 2009.
ABOUT THE WORLD COSPLAY SUMMIT: The World Cosplay Summit (WCS) is an international level Cosplay competition held annually in Nagoya, Japan, and hosted by TV Aichi. The competition brings together contestants from all over the globe to showcase their prize-winning costumes. In 2008, Animania Festival was chosen to run the Australian Preliminary Competition with the winners to take part in the 2009 World Cosplay Summit in Japan.
PHOTOS:


Caption: Gabriella Lowgren (left), Kenny Travouillon (center), and Katherine Lee (right) pose in the costumes they are taking to Japan (Costumes from Anime TV Series "Bubblegum Crisis") Location: Sydney Photo Credit: Michael Muki Lee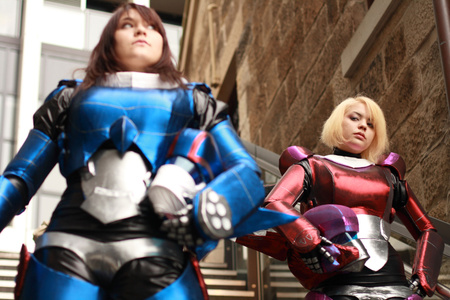 Caption: Gabriella Lowgren (left), and Katherine Lee (right) pose in their mecha "powersuits" (Costumes from Anime TV Series "Bubblegum Crisis") Location: Sydney Photo Credit: Damien McMonigal


Caption: Katherine Lee (left) and Gabriella Lowgren (right) with their costumes that propelled them to the finals (Costumes from Anime TV Series "D.Gray-man") Location: Animania Festival Sydney Photo Credit: Dirza Rezfino

---