Innovative Audio & Visual Hybrid Project, Genki Rockets Releases First EP "make.believe / Flow (Child of Eden Mix)" Worldwide
Innovative Audio & Visual Hybrid Project, Genki Rockets Releases First EP "make.believe / Flow (Child of Eden Mix)" Worldwide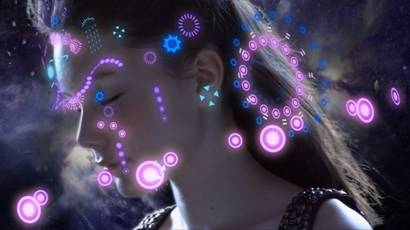 World renowned digital media creator and music producer team up to create a whole new creation.
Their vision and music is beyond any imagination and the first and only of its kind.
With its cutting edge concept, Genki Rockets introduces new generation pop music sensation.

New York, NY, May 31, 2011
– Sony Music Records Inc., a division of Sony Music Entertainment (Japan) Inc. has announced the first release of Genki Rockets music outside of Japan – "make.believe / Flow (Child of Eden Mix)" EP. The tracks will be available in worldwide on Amazon®
(www.Amazon.com)
and iTunes®
(www.iTunes.com)
on June 6, 2011. 'Flow (Child of Eden Mix)', is used in upcoming game "Child of Eden" that will be released on Xbox 360 and PlayStation®3, published by Ubisoft Entertainment.
Genki Rockets with Lumi, the first space born human in human history, is a sound and movie combined, audio & visual hybrid project produced by the two Japanese specialists. Tetsuya Mizuguchi, a world renowned digital media creator and Kenji Tamai, a renowned music producer and also CEO of "agehasprings", which is famous for being the No.1 hit making creators' lab in Japan.
Tetsuya Mizuguchi was selected as Digital50 (most celebrated 50 digital creators of the world) by PGA in 2006, for his numerous high quality creations. His best known works are music games, "Space channel 5", "Rez", and "Luminus". At the 2002 Ars Electronica, he was awarded the Honorary Mention for the Interactive Art category for "Rez" and was also awarded the Japan media arts festival special prize.
Kenji Tamai, is the CEO of "agehasprings", and the songs and albums that "agehasprings" have released to date are said to be recognized as mega hits in Japanese music history, including the works of Japanese female divas such as YUKI, Mika Nakashima, Yuna Ito, and band flumpool etc. Since 2005, the total number of sales including CDs' and DVDs' produced by agehasprings, exceeded 20M copies.
In 2006, when their very first music video "Heavenly Star" was uploaded on YouTube by an American Journalist, it brought instant sensation and spread all over the world in no time making a record of 1M hits. Genki Rockets was nominated for the Best Song for the "VIDEO GAME AWARDS 2006" and performed as the opening act for "LIVE EARTH 2007 TOKYO" making an appearance with former Vice President of the United States, Mr. Al Gore using a special effect hologram. In 2008, Genki Rockets concept was awarded the winning award as GOOD DESIGN.
In 2010, Genki Rockets created the worlds' first 3D and full Computer Graphic Music Video inspired by 'make.believe', the brand message of SONY group. This video was also featured widely during the World Cup 2010 South Africa, and was broadcasted at Nelson Mandela Square- SONY 3D dome in Johannesburg. Followed by the hugely acclaimed 3D live performance at IFA2010, the biggest electronic show in the world, Genki Rockets also performed 3D live at 2011INTERNATIONAL CES, the world's largest consumer electronics show, held In Las Vegas, USA and introduced their latest 3D music video "Curiosity" for the first time. Genki Rockets released the world's first 3D music video collection 〝 "make.believe" 3D Music Clips e.p." in Blu-ray, and much anticipated second 3D music video collection ""Curiosity" 3D Music Clips e.p"., coming up on 29th June in Japan.
■
Genki Rockets official website
www.genkirockets.com
■
Genki Rockets Facebook page
www.facebook.com/#!/pages/Genki-Rockets_Official/186299518071419
■
agehasprings website
www.ageha.net
EP Information
Title: "make.believe / Flow (Child of Eden Mix)"
Track List:
1. 'make.believe'
2. 'Flow (Child of Eden Mix)'
Release Date: June 6th, 2011
(Countries available in: USA, Canada, UK, France, Germany, Italy, Spain, Finland, Sweden, Russia, Netherlands, Australia, New Zealand)
About "Child of Eden"
Child of Eden is the "synaesthesia shooter" that will send players diving back into a kaleidoscopic matrix of synchronized music and mind-blowing visuals that will usher forth yet another landmark game experience from the mind of Tetsuya Mizuguchi, its creator. It features music by Genki Rockets including the track 'Flow'. ('Flow (Child of Eden Mix)' is unreleased in Japan.). Published by Ubisoft Entertainment and developed by Q Entertainment, the game will be released on June 14th in North America and June 16th for Europe on Xbox 360 followed by a PlayStation®3 release in September.
http://child-of-eden.jp.ubi.com/
http://www.facebook.com/#!/ChildofEden?sk=wall
---