Video Gaming @ London Anime Con this July 1st - Largest Ever
London Anime Con is an 18+ anime and gaming event on June 30th and July 1st at The Rocket Complex, Holloway Road. Signup for London Anime Con HERE and check out the event timetable for it HERE. Pricing is reduced £15 for two days or £8 for Saturday & £7 for Sunday if you register now!
VIDEO GAMING AT LONDON ANIME CON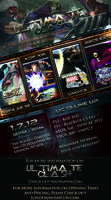 Brought to you by the likes of NeoEmpire, Namco-Bandai, Arc-Systems and DS:London the Sunday of London Anime Con on 1st July shall be a special-gaming themed-day! They will be running an entire days worth of gaming tournaments with big-cash prizes at stake. But that's not all, for there is also a lot of gaming going on for the Saturday as well! Check out the provisional timetable
HERE
.
Free to Enter Tournaments (Small Prizes): Mario Kart Wii/7, Guitar Hero, Rock Band, Blazblue Extend, DDR, Goldeneye64, Halo Classic, Call of Duty 4, Smash Bros, Ridge Racer

Stakes Tournaments (Big Prizes): Street Fighter 4 Arcade 2012, Ultimate Marvel v Capcom 3, King ofFighters VIII, DDR, Super Smash Bros Brawl/Melee, Mortal Kombat, Soul Calibur V

Casual Play, over 100 Games: Too Many To List from modern to retro. Chillout with your friends!



EVEN MORE GAMING HIGHLIGHTS...



Live gaming-inspired music from Area-11 (who recently worked with Yogscast, their video on youtube getting over a million views) Sonic-inspired Zonic And many more!
Chiptunists- The most popular musicians from the Chiptunist scene including electronic-hit TEMPHUiBIS!
Gamers Day Quiz - How hardcore are you? Sunday afternoon will see the gamers-quiz. Team up with your friends and prove your gaming knowledge to win cash prizes!
Gaming related Cosplay including the Cosplay Masquerade!
A Gaming-themed party bought to you by Nintendisco, London's #1 gaming clubnight! As well as some of the best DJs, there will be live-music, dance performances and free glowsticks and lollipops up for grabs!

AND EVEN MORE FOR GAMERS! On BOTH Saturday and Sunday, there shall be -


Video Gaming Chillout – An entire zone where you can drop in, play your favourite games non-competitively and chill out with your friends! Come along, grab a drink and have a good time!

Hand-HeldGaming - Bought to you by DS:London! Make sure to bring along your DS or PSP! There will be plenty of wireless gaming taking place, as well as hand-held tournaments planned including Pokemon!

Retro Zone – A wide variety of consoles from the 8-bit/16-bit era right through to the original SNES, Megadrive, Playstation and N64. Come enjoy your favourite classics. This area is sponsored by Game-Link!

Gaming-Related Traders – The likes of GamelinkUK shall be selling the rare and unusual that you would struggle to find on ebay, much less in the shops! Come along and check it out!

DDR Olympics – The DDR Olympics are coming, stay tuned for a big announcement to come with this one! We'll also have DDR Casual play as well as Rock Band and Guitar Hero.

Not a Gamer? Fear not, for the Sunday shall STILL have plenty of Anime, Cosplay, Manga, Talks, Workshops, Karaoke, TCGing and J-Culture present! Why not check out all that London Anime Con has to offer on it's website HERE.

BASIC DETAILS

Opening Times: 11am to Midnight.
Pricing: Reduced price entry to just £7 if you pre-pay now. On the day entry is £10 per day.
London Anime Con Website: www.londonanimecon.com
View Event Timetable: HERE
Tournament Information: HERE
Link To Pre-Pay: Here
Join the forums: HERE
---