AniplexChannel.com is the New Channel for Fans to Access their Favorite Aniplex Shows in One Place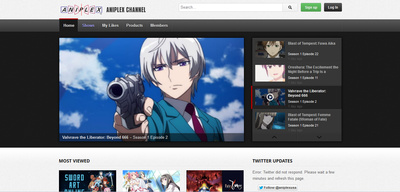 SANTA MONICA, CA (April 25, 2013) – Anime fans will be delighted to hear that Aniplex of America will be launching their own Aniplex Channel starting today at AniplexChannel.com. Fans can now easily access all of their favorite Aniplex of America titles in one place for free. The channel features a convenient interface where users can enjoy high-quality streaming videos powered by HULU, a products page making purchases a breeze, and latest information regarding Aniplex releases and featured events.
Viewers can register on the website for free and become part of the Aniplex Community. Registered members of the Aniplex channel will enjoy creating a "My Likes" playlist as well as being part of the community with the ability to leave comments on the videos they have viewed and chat with other members. Updated daily with the latest simulcast, the Aniplex channel will feature all the newest Aniplex of America titles such as Valvrave the Liberator, as well as all the popular catalogue titles such as Sword Art Online, Fate/Zero, Puella Magi Madoka Magica and many more!
About Aniplex of America Inc.
Aniplex of America Inc. (Santa Monica, California) is a subsidiary of Aniplex Inc. (headquartered in Tokyo, Japan), a group of Sony Music Entertainment (Japan) Inc. and leading provider of anime content and music production and distribution in Japan. Aniplex of America has launched fan-favorite DVD and Blu-Ray releases such as Bakemonogatari, Durarara!!, Puella Magi Madoka Magica, the Garden of Sinners and Blue Exorcist. The company's ever- growing line-up of shows includes our most recent titles, Sword Art Online, Magi, and Blast of Tempest.
Official Websites:
---
discuss this in the forum (12 posts)
|