ANIMAX UK Exclusive Spring Simulcast Content
Spring's a-coming, and it's bringing with it a fresh batch of brand new ANIMAX Simulcasts. All the best action is set to bloom from the UK's Ultimate Anime Destination, as we showcase the hottest shows direct from Japan. So crack out your Easter Eggs and settle down for the stunning Soul Eater Not, Mekaku, The Kawai Complex Guide To Manors And Hostel Behavior, and gaming great Date A Live 2. No need for a Spring clean this month - The ANIMAX New Spring Simulcasts will blow away the cobwebs all on its own…
Coming Soon to ANIMAX from April 2014

EXCLUSIVE UK PREMIERE
SIMULCAST
DATE A LIVE – SEASON 2
Date A Live is back for second series which promises to take you out of this world once again. We pick up the story of Shido Itsuka and his encounter with a spirit girl named 'Tohka', who has been rejected from a devastated world. Shido discovers that she wiped out much of humanity 30 years previously and now she is back for more. To his surprise it appears that the only way to stop her is to date her!
Image: ©2014 Koushi Tachibana,Tsunako/PUBLISHED BY KADOKAWA Fujimishobo/Date A LiveⅡ
Partners

EXCLUSIVE UK PREMIERE
SIMULCAST
SOUL EATER NOT!
The Death Weapon Meister Academy—DWMA for short, is a special institution for humans who are born with the power to turn either into weapons or the wielders of these weapons, called meisters. While the students of the "EAT" class train themselves to become warriors of justice, the "NOT" class is for those who just want to control their powers with the intent to not become a threat to others and to themselves. Tsugumi Harudori is a halberd demon weapon who takes part in the NOT class. She befriends two meisters, Meme Tatane and Anya Hepburn, and finds that she cannot chose between them as possible partners.
Image: © 2014 Atsushi Ohkubo/SQUARE ENIX, SOULEATER NOT Project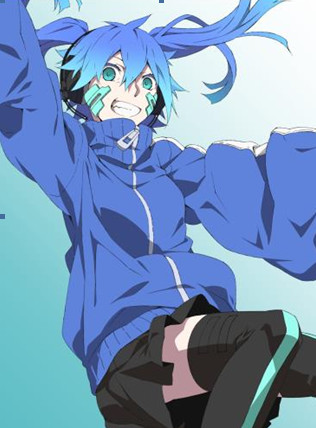 EXCLUSIVE UK PREMIERE
SIMULCAST
MEKAKUCITY ACTORS
Shintaro Kisaragi, has lived as a socially withdrawn hikiNEET for two years having shut himself inside his bedroom. He has no desire to leave the safety net of his room. Until, that is, he meets Ene, a cyber-girl who appeared on his computer screen when an anonymous person sent him a mysterious email one year ago. One day Ene tampers with Shintaro's PC, causing him to leave his bedroom confinement for the first time in 2 years.
Image: ©JIN/1st PLACE, Mekakushidan Anime Production Team

EXCLUSIVE UK PREMIERE
SIMULCAST
THE KAWAI COMPLEX GUIDE TO MANORS AND HOSTEL BEHAVIOR!
Living away from home can have its perks, especially when you're just a kid: no parents, no rules, no curfew! Add the fact that you just – miraculously - moved in right next to the girl of your dreams and it sounds too good to be true. Naturally, things that sound too good to be true usually are. Kazunari Usa's independence arrives by way of his parents' new job placement. However, with this newfound freedom come the shackles of responsibility, and his hopes and dreams are soon dashed when confronted with the indecent behaviour of his lecherous neighbour, Shirosaki. Usa promised he wouldn't complain if he could just live on his own… he just didn't expect so much drama. Not only do Usa and his dream-girl Ritsu attend the same school, but Ritsu's grandaunt, the landlady Sumiko, tries to give Usa weird relationship advice regarding the two. To top it all off, everything is upended when Usa meets Mayumi, an older, flirty woman that he runs into on the street. Will Usa's fantasy of a normal life ever become a reality? Stay tuned to find out in THE KAWAI COMPLEX GUIDE TO MANORS AND HOSTEL BEHAVIOR!
Image: ©Ruri Miyahara・SYONENGAHOSHA/Kawaiso Production Committee
---