×
remind me tomorrow
remind me next week
never remind me
Subscribe to the ANN Newsletter • Wake up every Sunday to a curated list of ANN's most interesting posts of the week.
read more
Tankobon Tower
A New Beginning
by Allen Divers,
Welcome to Tankobon Tower, yet another new column here on Anime News Network. Similar to Shelf Life, Tankobon Tower plans to sort out the various manga hitting the streets, giving you an idea of what's out there. For those unfamiliar with the term, Tankobon (also spelled tankoubon) is the Japanese word for graphic novels. It'll actually be pretty rare when I use the term directly, so get used to me referring to them as graphic novels.
There are a few things I plan to do in each column. First off, I'll pick one book as the hot pick of the week. This is a title that I feel should be in everyone's collection. Next, each column will split the week's releases into three basic categories: Buy it, Borrow it and Bury it. Each of those should be fairly self-explanatory, so no real need to get into that.
I do need to get something off my chest right off the bat here. The recommendations in this column are based on my opinion. While I like a lot of different things, there are a few genres that I enjoy more than others. Even with the titles I'm not too thrilled by, I'll do my best to present enough information that you can judge for yourself.
One other thing I should mention is that many of the release dates for these titles are simple estimates. In a few cases, the books I review have already hit the streets or won't show up the week I mention. With the book distribution system as it is, manga often takes a while to filter through the system to your local retailer. For many of the titles, their release date is listed as July 2003. With these titles, I'll tend to spread them out through the month. So you will find a few quirks with my weekly groupings.
Let's get on with the show!
---
Hot Pick

Saber Marionette J Volume 1
Released by TOKYOPOP
$9.99 U.S.

With this one pick, it should be fairly clear what genre I enjoy the most. That's right, quirky romantic comedies. And Saber Marionette J in both its anime and manga forms is one of the quirkiest out there. In the future, the last vestiges of mankind have made their way to a rather inhospitable planet. A freak accident causes most of the crew to be lost, with a handful of men surviving. Wanting to continue the human race, these men begin to clone themselves to populate this new world. The only problem, as no woman has survived; they have no way to clone women. On this world, taking the roles of women are androids called Marionettes. While the Marionettes help fill the void, they are emotionless beings, incapable of the full emotions common to humans. Of course, Otaru Mamiya learns differently when he stumbles across a group of marionettes capable of emotion. What follows is a romantic comedy, often more focused on the comedy than the romance. And just to keep things lively, there's a bit of a back-story working its way to the forefront that affects the inhabitants of the entire world. While starting from the overused one guy, many girl basic plot line, Saber Marionette J takes off in its own direction to create a unique and fun adventure. For those who enjoy a bit of romance mixed in with sci-fi and comedy, this is the book for you.

---
Buy it!

Wild Act Volume 1
Released by TOKYOPOP
$9.99 U.S.

With more and more Shoujo titles being released each month, it becomes more difficult to decide which titles are the best of the bunch. Wild Act puts a nice spin on things, starting from the basics of the typical Shoujo plot line, then setting off on its own pace producing a unique tale. Rie Takada, no stranger to Shoujo comics, weaves a romantic tale about a young girl who becomes a thief to help her mother. The artwork is typical Shoujo, with pretty girls and handsome guys, mixed well with solid dialogue and beautiful settings. For those looking for a quality title to start off with, Wild Act is a definite buy it!


Kare Kano Volume 4
Released by TOKYOPOP
$9.99 U.S.

While Wild Act is just getting started, Kare Kano has established itself as a staple for all Shoujo lovers' collections. Life and love continue for Yukino and Soichiro as family and friends continue to make things complicated for the two young lovers. Masami Tsuda keeps things lively with strong dialogue and situations that keep everyone on their toes. Mixed in with the standard storyline are a few mixed tales of romance and comedy. The strength of Kare Kano comes from its ability to stay very heartfelt and true, while remaining light enough to keep readers laughing. Always a high recommendation, Kare Kano remains a must buy it!


Hanaukyo Maid Team Volume 1
Released by IC Entertainment
$12.95 U.S.

Ok, I'm definitely stuck in a pattern for this week's buy it category, as the third buy it is another one guy, many girl comic. I fell in love with this series thanks to the short anime series, and have been looking forward to the release of the original manga that the anime was based on. It's a simple tale of a young boy who has recently lost his mother, and goes off to live with his grandfather. To young Taro's surprise, his grandfather is one of the wealthiest men in Japan and has created a beautiful mansion run by hundreds of beautiful maids. Let the comedy hijinks ensue! Honestly, when I first saw Hanaukyo Maid Tai in anime form, I thought the series was hentai. After watching a few episodes, I realized it wasn't really hentai, but just pushed the limit. In turn, the original manga isn't nearly as provocative as the anime, but still pushes the limitsof echi. Aside from the blatant fan service, Hanaukyo Maid Team is a fun-filled comedy that at its heart is just telling a fun story. The artwork is strong moving from beautiful scenery to hilarious prat falls, mixing them quite well. Hanaukyo Maid Team is a definite buy it for those looking for a fun comedy with a quick pace.


Central City Volume 1
Released by IC Entertainment
$7.95 U.S.

Ok, time to break away a bit from the Shoujo and romantic comedy series and take a look at something a bit darker. Central City from relative newcomer, Saya, is set in the dark aftermath of World War III. The world has rebuilt but new dangers await mankind as many have embraced new vices. Several murders are taking place around Central City and it's up to a group of Disposers to solve the mystery. Central City proves to be a world with a lot of things happening all at once. Saya, who started manga life as a popular doujinshi artist, has crafted one of the most provocative tales in the IC Entertainment inventory. While the artwork feels a bit sparse at times, it creates some intriguing designs and settings that fit well with the overall dark atmosphere of the story. It really feels as if IC Entertainment is looking to create a whole new reputation for themselves, and this title should help raise them to the next level. A definite buy it for Central City.



The All-new Tenchi Muyo! Volume 2
Released by Viz
$8.95 U.S.

Ok, I admit it. The only reason this title is in the buy it list is I'm a huge Tenchi fan. Set in the world of the OVAs, Hitoshi Okuda takes Tenchi and the gang on a variety of adventures that aside from the setting established by the OVAs has nothing to do with any of the series. Still, fans of the Tenchi series will enjoy seeing Tenchi and the gang dealing more with the every day problems that a group of one guy and a bunch of girls will face living under one roof that seems to be destroyed every other day. Truly tales of no consequence, Volume 2 of Tenchi Muyo is simply a solid distraction from some of the heavier tales appearing in print. As a fan of the series, I place this one in the buy it category, although it does lean a bit towards the borrow section as your mileage with the whole Tenchi genre may vary.

---
Borrow it!

Confidential Confessions
Released by TOKYOPOP
$9.99 U.S.

On the subject of dark tales comes a book entitled Confidential Confessions. Stuck in the real world, Confidential Confessions tackles many of the problems of today's youth. With very thought provoking themes and an artistic style doing its best to convey the raw emotion, Confessions may be a bit bitter for the casual manga fan to swallow. For its dramatic realism, and thought provoking ideas, this is a book that everyone should at least take a look at. Its titles like these that remind readers that manga is often more than simple romantic comedies and sci-fi adventure; its also an effective tool to tell a strong story. Because of how different this book is, I have to place it in the borrow section, because of the books definite departure from the norm. It's still very worthy of inspection, so if you're not going to buy it, at least borrow it.


Lupin III Volume 5
Released by TOKYOPOP
$9.99 U.S.

The adventures of Lupin the 3rd are legendary in nature. Lupin is one of the most recognized figures in Japan with quite a few homage's and references in many different series. Even in North America, Lupin has become a big hit with plans for a live action movie at some point. So why is this one in the borrow it section? Well, the big complaint I hear on this title is the artwork. When compared to a lot of the modern manga coming out of Japan, the Lupin's artwork is simply primitive. Considering that the artwork dates back to 1969, it's not too surprising that it comes across as primitive. But still, with strong writing and fun action this is definitely one that people need to see, so it's a heavy favorite in the borrow section.


Record of the Lodoss War Volume 5
Released by Central Park Media
$15.95

Record of the Lodoss War has long established itself as one of the finest examples of fantasy anime and manga. The characters of the series have managed to produce a number of spin-offs and the writing and story lines remain top notch throughout the series life span. So why is it in the borrow it section? It's the price point! With the majority of the titles on this list under ten bucks, its getting harder and harder to push people towards the high end books, especially with fans more willing to accept books closer to their original Japanese forms (meaning smaller size and unflipped format.) Record of the Lodoss War is a definite must-see, but getting around the high price will make it a more borrowed book than many of the others on this list.


Vampire Princess Miyu Volume 4
Released by IC Entertainment
$15.95

While Central City, helps take IC Entertainment to a new level, Vampire Princess Miyu is a title that has built them up to their current level. With sleek and sexy artwork, Miyu flirts with dark storylines that help fill a nice niche in the manga market. Again, why is a great title like this in the borrow section? High price point. With more and more manga on the market, consumers are having to pick and choose more wisely which titles they buy, and the choice may boil down to simple economics. While Vampire Princess Miyu is a strong title, fans may go elsewhere due to the high price.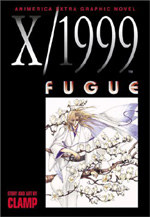 X 1999 Fugue Volume 10
Released by Viz
$9.95

Often times, a manga can take on a whole life of its own, mostly due to the reputation of the creators. Of course, there are certain titles that actually create that reputation for the creators; such is the case with X. X has taken on a whole life of its own, thanks in part to the efforts of the creators, CLAMP. In typical CLAMP fashion, X features all the traditional nuances and continues to be a popular series as it is still running in Japan. So why is such a popular title with beautiful art and strong story in the borrow section? In typical CLAMP fashion, X straddles the line between a shoujo and a shonen series. With pretty boy designs, strong action sequences and imagery that often borders on the yaoi vibe, X tends to fall in that category of love it or hate it. For those who are a bit squeamish, this one is a definite borrow it title.

---
Well, normally we would hit a section of titles that just stink. Amazingly enough, in my first week, I couldn't find any titles worth bestowing this honor to. I'm being a bit mean with it, but to be honest, the last section of bury it is simply going to collect the titles that I can't get into. I do have a few in mind, and as I've said, I will do my best to show all sides of the picture.
I hope you enjoyed the first week of Tankobon Tower. This is a work in progress, so as I get the feel for things, expect more every week!
---