The Gallery
Sarah Arai
by Evan Miller,


Our banner this week features art by our featured artist, Sarah Arai! Click on the banner for a larger image of the original ANN character image she drew for us. Thanks, Sarah!
As the cold returned to San Francisco this week after a week of unusual highs, I am reminded that the summer convention season is over. However, there are still two big shows rounding out the month: Anime Weekend Atlanta is about a week away, and all of us at ANN will be at New York Anime Festival in two weeks. I'll be running the translation roundtable, so come by and say hi! I'll be the tired looking guy in the suit.
This week: a look at an up-and-coming artist with a sense of humor and a lot of what artists these days really need: persistence.
---

Cover from Half Way There
Sarah Arai's first exposure to the world of manga was in the 1990s, when titles such as Ranma 1/2 and Sailor Moon were famous among fans. She found herself working on drawings with friends for fun, and after a while, she began to realize that a pursuit of art professionally might be worth a shot.
Unfortunately, life intervened during high school. The daughter of a single mother, Arai found herself balancing classes, helping her mother care for her siblings, and working a job to bring in money for the family. Art, sadly, fell by the wayside as she found herself devoting more and more time to keeping the rest of life moving smoothly.
Fortunately, she found her way back to art. In the interest of getting her work before the public eye, she submitted her work to Tokyopop's Rising Stars of Manga contest. The results she got back were not exactly what she hoped for: a list of comments of improvements that could be made to her work. However, Arai - already toughened by her busy schedule - didn't look at the response as a rejection, but as a chance.
"That was less of a disappointment, and more of a motivation," says Arai, who quickly headed back to the drawing board and kept working on refining her work. As she kept adjusting her style, her work started attracting the attention of others - including Subaru of America, who requested that she work on art for a promotional campaign. At the same time, she found herself back in touch with Tokyopop, who were again looking for artists; only this time, editors were expressing interest in her work instead of offering tips for improving.
At the same time, her personal life went through a number of changes as well. She met and married a Japanese man, thereby changing her name to "Sarah Arai." The new last name quickly became a family in-joke; since the verb "arau" in Japanese means "to wash," Sarah was soon known as "Dishwasher" to some friends and family. Adopting the name as a nickname for her website, Arai also adopted another project: running a Japanese restaurant with her husband. Although she now found herself partially responsible for running a business, she continued to stick with her art, working on drawing during the daytime before heading to work at night.
Arai's "day job" hit a snag earlier this year. The Subaru campaign went unpublished, and a restructuring at Tokyopop meant that Arai's previous contacts at the company were suddenly nowhere to be found. Frustrated, Arai made a decision: to worry less about making money and to return to the roots of what she first did as a manga fan a decade ago: just enjoy herself.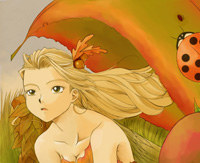 Ladybug
The shift in perspective seems to have paid off. As of this writing, Arai has secured a future spot on the comic site Wirepop for her next work, the comedy series Half Way There. The story focuses on a young man who, rejected by a girl, finds himself possessed by the ghost of a prostitute - eager to live life again - as his spirits are low. While the theme sounds serious, Arai plans to keep the series comedic in nature.
Fittingly, her attitude towards her work matches that of her characters nicely. "If I can keep doing both art and my 'real job' at the same time, that's nice," says Arai, before adding with a laugh, "but if I could only do one, it would be art." Hopefully, manga fans will be able to see even more of that art in the years to come.
---
IN DEPTH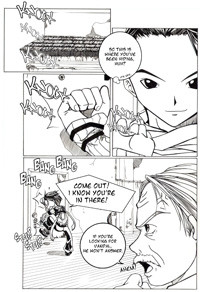 C.O.D.
ANN: You mentioned that you have a certain character or concept in mind before you start working on a piece. What was the starting point for C.O.D?
Sarah Arai: The starting point for C.O.D. actually came to me when I was playing 007 in N64 with my brother shortly after I graduated from highschool. I was beating him pretty badly on multi-player mode, but right before I killed him, I had to sneeze and couldn't see the screen, and because of that I died. Then I thought to myself, what would happen if that was real life? From there I had to think of a scenario that would cause somebody to sneeze and have a need to shoot at the same time, all of which resulted to my idea of a bounty hunter that was allergic to gun powder.
ANN: What kind of visuals inspired the look and color scheme for Ladybug?

SA: My main weakness is coloring, probably because I focused so hard on trying to render color in black and white, that was sort of neglected. For "Ladybug" I decided that I needed to do a quick doodle to practice coloring and hopefully improve my overall scheme and the amount of time it takes for me to render. Since her outfit was made of leaves and my season is autumn, I tried to incorporate that into the piece and have it blend together. In the end, since I didn't force myself as much as I usually do, I liked the end result. Unfortunately, I haven't been able to replicate it very well!
ANN: When working on your manga, what part of the creative process do you feel has been toughest for you, and how do you work through those issues?

SA: The toughest part for me is what I feel is probably the same for a good amount of other comic artists, which is starting. For some reason I end up redrawing the first page of every project I do between 3-5 times, and the second and fourth page I usually redo. It becomes so frustrating for me because I feel like I have so much farther to improve, and I doubt my craft and the story itself. The way I work through those issues in a weird way. I got a fortune cookie a long time ago and I kept the fortune with me for ten years, and it read: "The secret to success is getting started." I can't explain it, but whenever I bring it out and read it I can continue much easily. It's kind of my good luck charm!
ANN: Your new work, Half Way There, is about to debut on Wirepop. Why did you choose the kind of setting you did for this comedy?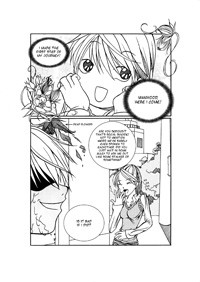 Half Way There
SA: I had a dream about one of the scenes where a boy is pulled out of bed by his mother to get ready for school, but they're both surprised to see him in very sexy women's clothing. Immediately after, he goes on his way to school, and a guy he had never met kisses him in a large crowd of people, and I was in the background watching and snapping a photo. I woke up and said I had to make a story that includes all of those elements, and expand upon them. So, with all of those elements in mind, I tailored the story for the boy to be possessed by a prostitute and the escort will do anything in her power to take over his body. At first they will be fighting against eachother, but eventually they will become friends and learn that they can't really live without eachother (more so the case for the escort.)
ANN: It sounds like your schedule keeps you from participating in a lot of art-related activities, such as attending conventions. Do you have any advice for other artists dealing with these kinds of limitations?

SA: It's true that I cannot attend many conventions anymore. I own a Japanese restaurant with my husband and in this business it's very difficult to take off specific days, especially on the weekends. Weekends are our busiest days and they're also the days that conventions fall on. I do attend some conventions, NYAF being one of them soon, but I have to carefully pick and choose which ones I attend. My best advice for people in a similar situation would be to know about as many conventions as possible and carefully plan on which ones you will attend many months in advance and lock a fill in with plenty of notice (it forces everyone else to conform around your day off). When picking which convention you would like to attend, pick the biggest one in your area. There will be more competition, but there will also be more people to see your work, and more portfolio reviews and opportunities. You can form some contacts and relationships and communicate via e-mail the rest of the year. You will be less known, and everything does become more difficult for you, but everything worth having is worth working for.
---
Want to check out more of Sarah's work? No. Well, okay, if you insist:
A wide variety of Sarah's work is available on her deviantArt gallery. She also maintains a small website devoted to her work, the appropriately titled Dishwasher Studios.
---
Are you an aspiring manga artist looking for some extra page views? Do you have a friend or loved one who draws extremely good original manga but needs a boost? Don't just sit there! Submit two links to your work, including one original piece (no file attachments please! File attachments shall be fried in trans-fat free vegetable oil), to evan [at] animenewsnetwork dot com, and you could be featured in a future Gallery column!
All works © Sarah Arai.
---
discuss this in the forum (1 post)
|