The Gallery
Alexander Shen
by Evan Miller,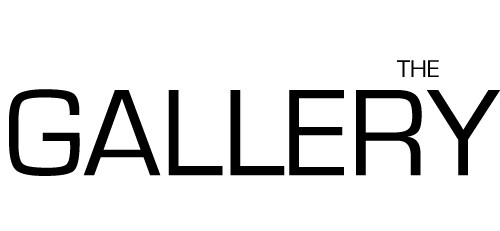 It's a holiday week here in the States, but this week has probably been one of the busiest this column has ever seen. We've got a whole new set of artist interviews happening in the coming week, so the holiday month shouldn't be short on content. On that note: many of you have been e-mailing or commenting with suggestions for the column. The feedback has been extremely helpful, so please keep it coming!
This week, we profile a webcomic artist who's work history includes comics, online games, and even stage comedy. Allow us to introduce...
---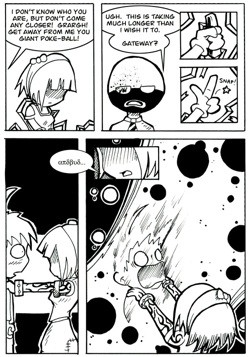 Comic Sample
Alexander Shen has trouble remembering when he last took an official "art class." According to Shen himself, he remembers taking about two semesters of an art elective at the Chinese language school he attended on weekends when he was growing up. After that, aside from some tutoring from a family friend, Shen has kept his academic life focused on other things. He graduated from the University of California-Berkeley with a degree in Cognitive Science and kept busy with work after graduation. While he was a student, he never joined an art group, opting to spend half of his time at UCB performing and working backstage with a campus comedy group. Considering all that, why has he spent so much time on webcomics and art sales at conventions?
For the answer, just ask Shen about the manga, anime, and comics that he loves. Like many American kids, his first exposure to comics came through newspaper comic strips like Peanuts and Calvin and Hobbes. Although the five-year-old Shen may not have been able to follow every storyline in every comic strip, the style of the drawings appealed to him instantly. He would soon find a new addiction in the world of anime and manga: "I remember when I first saw Dragon Ball," says Shen, who also credits Dragon Ball creator Akira Toriyama as a strong influence over his artistic style. "I couldn't believe that anyone could put so much fighting into a cartoon! That was amazing to me." If anything, it is Shen's love of the manga and comic art forms that have continued to motivate his artistic pursuits.
Shen first began writing webcomics when he was a senior in high school. It was the late 90s - the days of "600 Hours Free" AOL CDs, dial-up internet connections, and a budding online community of anime and manga fans limited only by the expensive cost of going online. Although he was interested in sharing his own doodles with others, Shen was unsure about where he could get his work into the public eye. He found that place when the number of webcomics online exploded and the success of titles like Tatsuya Ishida's Sinfest prompted him to start his own series. After securing cheap website hosting, he launched his first comic, a 4-panel manga-inspired strip called Socs. After concluding that series, Shen used the Socs characters in two more series: Pineapple Road (which is no longer online), and Gashapon Shop, which is still available online and in print.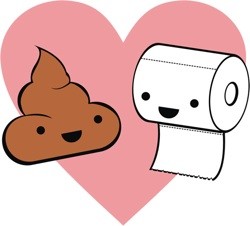 Perfect Match
From his earliest efforts to his current series,
Mr. Goh
, Shen has experimented with a style that he likens to both American comics and Japanese manga. Although the gags in his work are often influenced by western culture, Shen is quick to cite the pacing, awkward silences, and sweat drops found in Japanese humor and four-panel manga as strong contributors to the look and feel of his comics. "They're the kind of elements that don't have to have a gag line to be funny," says Shen, who cites
Kiyohiko Azuma
's famous four-panel manga
Azumanga Daioh
as one of the big influences over
Gashapon Shop
. Beyond artistic elements added for humor, Shen mentions
Eiichiro Oda
's facial expressions from
One Piece
as a key influence in helping him express more emotions with fewer lines of dialogue.
Although his academic and professional obligations took a lot of his time, Shen began spending the occasional weekend selling his work at conventions in 2003. The experience was a humbling one. "You have dreams of selling your work out," admits Shen, "but it's a business like everything else. Some people will like your work, but others will say 'Oh, that's cute,' and move on." The convention appearances did end up giving Shen a chance to interact with a community of artists outside the webcomics world, and that networking has not only brought his work more attention, but a few unique opportunities. Recently, Shen was asked to contribute a story to a forthcoming anthology of comics by Asian American creators (including American Born Chinese author Gene Luen Yang) called Secret Identities. "It's a good opportunity to show people how comics speak to [the Asian American] community," says Shen, who will be penning a superhero story for the anthology.
These days, Shen's abilities as an artist have not yet enabled him to earn a living from art alone, but they have played a significant role in his current job as a game and advertising designer for Mochi Media in San Francisco. He admits that the work often influences his storylines, and in return his own comics influence his professional designs. Appropriately, Shen also makes his own games, many of which can be downloaded from the same gallery where he posts his art.
Although quite a lot of changes have taken place in Alex Shen's life since he first became a comic fan as a child, he's still approaching comics, manga and art as he always has - as a fan with an unquestionable devotion to the art form. He may not be opening a gallery in Manhattan any time soon, but you can be certain that he'll still be generating comics and making games for anyone who might need a little entertainment. His own personal philosophy describes it best: "You don't write comics so you can stash them in a safe somewhere. You write them to share them with others."
---
IN DEPTH

Jogger
ANN: How do you think your comics have changed over the past few years? What are the big differences between your current work and older titles like Gashapon Shop?
Alexander Shen: To be honest, I feel that the biggest difference between my older comics and newer ones is how I approach their creation. If I want to create a cohesive story, I write out the plot and script out many elements that I want to tell within the story. I used to just write by the seat of my pants, hoping it all comes together at the end. If I ever got bored with the story, I would end up throwing in an abrupt ending and washing my hands of the comic. With a good outline, I can pace the story better and develop the actual paneling of the comics much better. As far as the humor goes, I think I have stopped worrying what others will find funny and just move forward with what's bubbling in my brain. I've often found out that what I think to be hilarious to be not nearly as well received as the ones that I find less humorous. I guess it's better for my health to stop worrying about that and just doing it for the love of doing it. In the end, if one person laughs, then I want to shake their hand and bake them a cookie.
ANN: You've lamented the state of the online games industry in your work before. In the world of flash games and online role-playing games, what are some of the areas where you feel developers should be working harder?
AS: I think my biggest concern with the online games industry is more so directed toward the rising independent development community. Many tools are becoming readily available and easier to use and I think that's fantastic. However, what I see is that the market is becoming saturated with games that aren't thoroughly thought out, slapped together with copy and pasted tutorials. This is fine and all if these are "my first game" samples, but it's the lack of acceptance from these developers for constructive criticism and how to get better at the craft.
Developers who are new to the game should be spending the time to hone their skills, like in any other art or form of creation. There shouldn't be airs about them. It's this sense of arrogance and lack of willingness to get better that makes it hard to find the good within the bad. It's true that the cream rises to the top, but when there's so much other stuff in the way, it can be difficult.
What also happens in this online development community (Flash games more so) is that people see that "simple Flash games" can net a good amount of money through ads and/or sponsorship opportunities. This causes the mass "me too" mentality where people think they can Frankenstein something together to meet the same success. The problem is that when it doesn't happen, they get upset and that's it. Developers should be focusing more of their time on the design and soul of their games. Why is this game fun? Why would someone want to play this game that's being created over another that is popular? They should be treating their creations like the console industry treats their games (without all the upper management bureaucracy). I think the best question to ask at the end of the day is, "would I play the game I made?"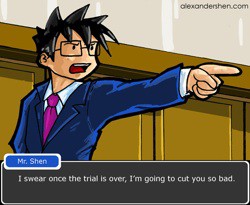 Parody Sketch

ANN: Tell us about your involvement in Secret Identities. Could you tell us a bit about the story you are drawing for the anthology?
AS: I remember hearing about Secret Identities for the first time in 2007. I was going through the submission guidelines and seeing what a great opportunity this would be for comics (some big names were to be a part of it) as well as the Asian American comic community. I had tried to start something similar earlier in the year called Sprout: An Asian American Comics Anthology, but was unable to pull in any submissions with my limited amount of marketing and exposure.
Unfortunately, time passed and I never did get anything submitted for review. Sometime in the first half of 2008, I received an e-mail from Parry Shen, the managing editor, about seeing some of my work and inviting me to participate as an artist for one of the stories. I was surprised, thrilled, excited and honored to have been asked. I took the story and started paneling it out the same night.
The story is called "Just Ordinary". It's essentially a look at an Asian American man who has always been placed in a stereotypical role of "computer science guru" or a person who obviously knows martial arts. It's the want to escape this stereotype and to be seen as a superhero (his ability is super speed). However, with all the fame from this, regardless of what he does, he learns that there are benefits of just being ordinary, outside of the spotlight. It was a great piece to work on and really pushed me on the type of work to do. I look forward to its release in 2009.
ANN: What do you think has changed most in the world of webcomics in the past decade? What kind of changes do you think lie ahead?
AS: Webcomics have evolved in that the quality of work in both art and written aspects have increased. This is no longer only a place for a recluse artist to post their drawings about waiting in line at the post office. It is a legitimate space where amazing work is available to everyone that matches and sometimes surpasses the comics you see on the shelves of a comic shop.
Web hosting and illustration tools are becoming cheaper and more readily available, which allows anyone with a little technical know-how to put their work online to be seen.
The challenges I see here, similar to the independent game developer community, is getting your work seen in a sea of other pieces. How does one expose their comic to a platform that has hundreds of thousands of other entries in the space? Why would one comic do exponentially better than another, when they look to be about the same "quality"? It's these questions that should be asked and thoroughly thought about, not just complaints when viewers aren't checking out your comic on a daily basis.
It's a tough battle to fight (uphill all the way) and creators have to be willing to learn from their mistakes, understand the space their trying to penetrate and always strive to be better than the creator they were the day before.

---
For a closer look at Alex Shen's work, check out his webpage here. He also maintains a blog and site for his other work here.
---
Are you an aspiring manga artist looking for some extra page views? Do you have a friend or loved one who draws extremely good original manga but needs a boost? Don't just sit there! Submit two links to your work, including one original piece (no file attachments please! File attachments will be baked at 325 for 4 hours and served with cranberry sauce), to evan [at] animenewsnetwork dot com, and you could be featured in a future Gallery column!
All works © Alexander Shen.
---
discuss this in the forum (3 posts)
|