The Gallery
Studio Qube
by Evan Miller,
When I was young, my brother and I fought about pretty much everything we could imagine. Toys, the Nintendo, who got to ride in the front seat of the car (and the proper protocol for claiming it) - everything was fair game for an argument on the scale of a heated senate debate. Although we get along now, I'm a bit doubtful that we could ever cooperate on the level necessary to produce, say, something like this:


Yes, another custom banner this week. Life is good.
This week we feature a pair of brothers from Canada whose collaborative artistic efforts have brought them a huge audience online and particularly in the UK, where their work has graced the pages of magazines, newspapers, and other publications. Please welcome...
---

Profile

Color: A combination of white and orange
can't be beat!
Favorite film: To be honest, we really don't have a favorite film. We enjoy film for pure entertainment, and try not to analyze it too much. We like quite a few films. We did watch the original Matrix a few times though.
While drawing, I listen to: We listen to a lot of electronic music, and that's an understatement!
Guilty pleasure: Spending money on modifying cars. Most people have no idea that we're incredibly passionate about cars, a la Initial D.
Pet peeve: Messy rooms, or anything messy in general.
Chili Cheese Fries or Poutine? Never tried Chili Cheese Fries, but yes, Chili Cheese Fries please!

Canada is awesome because we have: Mountains, Polar Bears, Beavers, and the odd igloo or two

Fade to Red
 
As the children in a very traditional European family, Michael and Cyprian Chomicki were raised with the mentality that it is important to stay close to your family. "People wonder why we don't fight," admits Cyprian, who is quick to mention that the two of them have been very competitive in the past. Both brothers are quick to admit one thing: the competitive aspect of their relationship has been one of the biggest contributing factors to their success as the art duo known as Studio Qube. Since Michael first launched Qube and Cyprian joined in, the duo has contributed their skills to big name clients like Sega, major UK newspaper The Independent, and legendary soccer/football club Manchester United. Although Michael and Cyprian still have their disagreements as brothers, it's hard to deny that their professional accomplishments and joint efforts in the art world are nothing short of remarkable.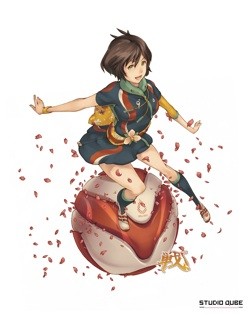 Sports Battle
The brothers were born in Poland, with Michael showing up four years before Cyprian did. They emigrated with their family to Germany, where the family hoped to settle. Unfortunately, their Polish background made getting German citizenship tough. As a result, in the late eighties the family decided to move to a place where some of their relatives had settled previously: Ontario, Canada. The constant moving was stressful, but Michael and Cyprian admit that the culture shock that came with their childhood experiences helped expose them to other cultures and their respective art styles and fashions for the first time. European art styles, fairy tales and oil paintings also served as powerful influences over their artistic sensibilities.
As their family ties kept them moving around the world, both of the brothers took a mutual interest in art. With an older cousin and two aunts who encouraged a love for art, Michael and Cyprian soon found themselves sketching and drawing in their spare time. After moving to Canada, the brothers gained exposure to anime through the Samurai Pizza Cats, as well as Saber Riders and the Star Sheriffs (a.k.a. Bismark). The colorful animation in the shows appealed to the brothers, who also became fans of Japanese video games and the art from titles like Breath of Fire. As the brothers grew older, they moved away from art for a while, but eventually their competitive nature brought them back to it as they started drawing for others. "We both had our own groups of friends," says Cyprian. "It was almost like a competition." These days, Michael and Cyprian still consider anime and video games strong influences on their style, specifically the work of Studio Gainax and the anime series Eureka Seven.

Tomorrow Never Comes
Although their parents wanted their sons to pursue a more traditional line of work, Michael had his heart set on working in Illustration. Consequentially, Cyprian followed suit. The brothers enrolled at Sheridan College, where they began to hone their skills and build their portfolio. Interested in building a reputation early, Michael teamed up with two of his friends and formed the first incarnation of his vision for an art group: Studio Qube. Over time, Michael's friends moved into other fields and Cyprian joined his big brother in the group, with both the brothers retaining their own personal sites and galleries under the Studio Qube name. After they both graduated Sheridan, the brothers decided that working together was something that they could get used to and in 2006, they merged their pages and artworks into the main Qube gallery and began to experiment with a "50/50" approach to creating a piece. Cyprian describes the process as if it has become second nature: "One person will draw, another will color it, and we'll offer feedback to each other the whole way." Although they both had a few reservations about the process, the brothers gave it a shot. This gamble quickly showed its worth in a market the brothers weren't expecting to reach: across the pond in the UK.
In 2006, Michael and Cyprian registered Studio Qube as a company specializing in contract art and illustration work. Drawing on their experiences at Sheridan, the brothers committed to a philosophy of putting extensive research first in creating artwork for clients. In the hope of getting more exposure, the brothers submitted some of their work to an art magazine in England. They appreciated the exposure, but neither of them anticipated what happened next: a phone call from a UK-based publisher asking for their help with some advertising work. It wasn't long before other companies came calling. The Independent wanted them to design an advertisement for a Fantasy Football campaign (see In Depth for more on that project) and Manchester United approached the duo to design artwork for a piece on Korean player Park Ji-Sung, who had just returned to the team after being out with an injury. The brothers approached the projects not just as opportunities to share their work, but add to their knowledge base as artists. For the Manchester piece, the brothers went beyond their experiences and examine traditional Korean art. "They asked us to push the design edge," says Michael, "so we researched Korean elements and styles to create images that signify a 'new beginning.' It was fun."

Summer Breeze
At the same time, the brothers found an outlet for their passion for video games, and both of them found work outside Qube as video game concept design artists. The dark, thematic style of many of the works didn't appeal to the brothers as much as their own work, but they agree that the experience has been well worth it in terms of gaining more experience. Subsequently, the duo was recruited for a number of freelance graphic design projects, including work for Microsoft, Sega, and Nike. Today, Michael still works in video games, but Cyprian has found himself working from home, devoting his full-time efforts to keeping Studio Qube running smoothly.
Today, Michael and Cyprian continue to devote their time to freelance design and illustration work. They still keep up on anime, manga and comics, and also spend a lot of their free time examining new art styles and color palettes. It's a lot of work, but they agree that the journey has made the destination special. "We like to push the critical mind set where we analyze our work, rip it up, and start again," says Cyprian. "For us, it's never enough to stop and rest - you have to keep pushing. No matter what, it's always good to try something new." And as for the sibling rivalry? There's not a whole lot of time for that at Studio Qube, and perhaps that's for the best. If their past collaborations are any indication, with Michael and Cyprian working together, their fans have quite a lot to look forward to.
---


Poster for The Independent
ANN: You both do a lot of research for developing the content of a piece. Could you walk us through the kind of research process that went into your poster work for The Independent?
Studio Qube: The Independent project was fairly specific in scope, so it required us to research a number of things. First, and most obviously, we had to look into the soccer (or football, as it is more commonly known outside North America) theme. This included researching the pitch (the field), the stadium seating and lighting, and of course, the gear worn by the players, which is more technically known as the kit. Working with the client on this project was actually fairly amusing. We received all sorts of emails with requests on what to include in the illustration, but many of the emails contained football vocabulary more commonly used in the UK. This resulted in some confusion at first.
Moreover, we had to fuse classical, English teacher and student uniforms, as well as school insignia, with the football kit. This turned out to be an interesting balance act, as the client was fairly specific in their request. We couldn't go too far because the characters had to be identifiable as preppy' students and faculty, yet have a sporty flare to them.
ANN: A lot of the works seen here feature female characters prominently. Have any artists or creators inspired your approach to drawing female characters, and how has that approach changed since the two of you first started out?
Qube: A large portion of work in the North American commercial art industry often demands the portrayal of big, burly, macho men, at least with our experience with video game pre-production work for example. As a result, the female figure is a welcome change from the everyday. We draw a good majority of our influence from Japanese anime / manga art in general, which quite often features females in the spotlight more often than North American art, although this has been changing in the recent years. Anime and animation art in general is about simplification and the suggestion of line and shape. We find that the female figure is inherently easier to simplify. Over time, we have adopted a flowing and animated look to our drawings, which complements the female form. We find it easier to make our work more dynamic this way. Simply put, we find girls more fun to draw!
ANN: You've both done work in the video game industry. What is some of the work that artists such as yourself do behind the scenes for games that you feel a lot of gamers overlook? What is the most strenuous part of working as an artist for the video game industry?
Qube: A great amount of pre-production work in video games never makes it into the final product. On many occasions, this art that doesn't see the light of day is the most creative and inspirational. Concept artists generate hundreds of drawings and paintings - we create visual representations of ideas. We will take multiple passes on one idea, until one of them is approved. Often, the work that we love most is rejected because of technical production restrictions, or simply because it doesn't suit the art directors vision. We are all used to this, because it's all part of the everyday grind, but it can still prove to be disappointing, and on occasion, frustrating. In addition, working as a concept artist isn't all that easy. Work can really pile up, and things can suddenly get pretty stressful. In the end though, it's all worth it, especially if you're working with a team of talented artists.
ANN: Little Red Gustov is somewhat of a departure from the other works seen here. Since the ship is the focus of the piece, do you approach the mechanical design differently than you would approach the design of mechanical or "modern" backgrounds seen in your other works?
Qube: This particular piece was approached in more of a conceptual, speed paint style way, which has become quite commonly recognizable amongst the concept artist community. With this type of work, the artist focuses more on the overall mood and atmospheric lighting, than the actual technical structure and readability of the subject. Basically, we are able to get away with a lot more in a piece like this. We don't have to be as precise and thoughtful in our approach, we can work quite loosely and yet still achieve a professional, and often quite dramatic result.
ANN: Cyprian mentioned that there was a "rivalry" between you two for quite a while. It seems like that rivalry was influential on how you both developed your drawing style. Could you both tell me (individually) what kinds of elements that rivalry encouraged you to improve in your respective styles? What is the artistic ability you admire most about your brother?
Cyprian: For as long as I could remember, the most influential and motivational aspect of my art career has been my brother, Michael. My view of our past rivalry has always been a very optimistic one, as it was a strong driving force in the development of my art. Being the younger brother, I would always compare myself and struggle greatly to compete. Despite this, the positive competitiveness between the two of us would continuously have me striving to achieve greater heights.
Eventually, we both developed similar ways of working. This has become one of the most pivotal factors of our work today. Additionally, as we both gathered a unique set of influences, we split in slightly different directions. I grew a soft spot for everything cute and colorful, whereas Michael pushed ever closer to mechanical, and slightly more mature art. Recently, we have both tapped into each other's minds, in order to merge and to create a unique style for Studio Qube.
Last but not least, the thing I admire most about Michael is his technical ability and constant push to improve.
Michael: There isn't that much more that I can really cover, as Cyprian seems to have answered a good majority of the question for me. What I can say though, is that I agree, our rivalry has worked out for the best. As artists, we both feed off each other's ideas and drive.
What I admire about Cyprian is his lighthearted approach to his artwork. I often see him doodling all sorts of cute and colorful things. This has inspired most of my recent work. I have learned to loosen up, use a lot more wacky color, and really merge my technical ability with a fun look. My artwork became more animated, and generally more pleasing to simply look at. I now do more than just commercial production and pre-production work.
---
To see more work from Studio Qube, check out their homepage.
---
Are you an aspiring manga artist looking for some extra page views? Do you have a friend or loved one who draws extremely good original manga but needs a boost? Don't just sit there! Submit two links to your work, including one original piece (no file attachments please! File attachments will be baked into cookies and shipped to local prisons), to evan [at] animenewsnetwork dot com, and you could be featured in a future Gallery column!
All works © Studio Qube.
---
discuss this in the forum (8 posts)
|