The Gallery
Amy Reeder Hadley
by Evan Miller,
Although this column is nearing its first anniversary, I'm a little bummed that we haven't been able to follow the lead of many other ANN columns and incorporate bunny and kitten jokes yet. Perhaps if I can convince some of the previously featured artists, we'll celebrate the first anniversary of The Gallery with a pictorial "bunnies versus kittens" war. We can illustrate it in a Norman Rockwell-esque style, just for kicks. Just picturing some red-faced American boy next to an angry kitten with a grenade makes me feel all warm and fuzzy inside.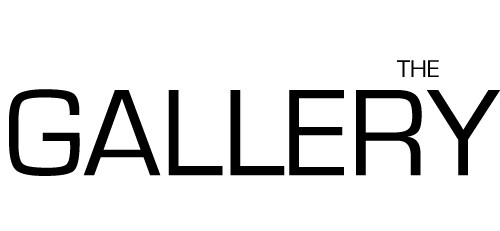 My guest this week is an Eisner Award nominee who got her start in the Tokyopop universe. Today, she's the artist for the critically acclaimed Vertigo comic series Madame Xanadu, and although some say that Xanadu puts her firmly into the genre of American Comics, her style and creative philosophy is a testament to just how much is possible for an artist hailing from a "manga" background. Straight out of Denver, Colorado, please welcome...
---

Profile

Nicknames: Tentopet--it's my online name but people rarely use it anymore!


Color: Purple, currently
Tools of the trade: A mechanical pencil and some paper
Favorite restaurant appetizer: Cheese dips
While drawing, I listen to: Nothing, usually--if anything it's renaissance or baroque choral music. Or New Wave.
Guilty pleasure: Cheese dips
Pet Peeve: Spitting (it's the one downfall of living in the city)
Denver needs more: swallowers and less: spitters

Favorite vacation spots: New York and Norway

Madame Xanadu cover image

 

It was July 2006. Anime Expo was underway in Anaheim for the last time, and Tokyopop artist Amy Reeder Hadley was taking a moment to talk with Carlo Santos of Anime News Network about her new "OEL Manga" Fools Gold. The interview talked a bit about a recurring theme among manga-inspired artists: the stereotype against manga-inspired artists by those that feel manga is an exclusively Japanese creation. Three years later, Amy found herself at San Diego Comic Con, sitting on panels with famed American comic writer Matt Wagner to talk about Madame Xanadu, the Eisner-nominated Vertigo title for which Amy is the artist. Those who have followed Amy's history as an artist in passing often comment on the "gap" between her work on Fools Gold and Madame Xanadu. Just how did an "OEL" artist develop her style to the point that she earned a nomination for the most prestigious award in comics? To Amy, the "gap" or "jump" isn't about a shift in style or an attempt to change her fundamentals from the ground up. "I think it's more of a progression through Fools Gold and on to Xanadu," says Amy. "It's about me learning and trying to stretch myself." She admits that her determination to keep developing her style and master new techniques has involved a lot of sacrifices, such as personal time or the occasional day off. Yet, in spite of her critics, Amy's work and development as an artist says one thing clearly: she's worked hard to get where she is, and she has no intention of turning back. "It sounds depressing when I talk about how much I work, but it really isn't," she says. "I love being proud of my work, and that keeps me going."

Amy's background speaks volumes about the creative jumps she would make as an artist - not to mention her tenacity. Growing up, Amy was not interested in drawing characters. Rather, she opted to draw scenery from everyday life in a realistic style. Although her realist drawings indicated a talent for art, she had one stumbling block: she felt she was unable to develop her own scenes or characters. That all changed during high school, when the popular anime Sailor Moon captured her attention. Inspired by
Naoko Takeuchi
's legendary series, Amy began trying to develop her own characters. "Instead of having 'Mars' or 'Venus' like Sailor Moon, my characters were 'Fish chick' and 'Unicorn chick,'" says Amy, admitting that her first attempts to develop characters look bizarre and expressionless in retrospect. Despite the new inspiration, Amy used her art mainly as a stress reliever as she worked her way through college and graduated with a degree in Social Science Education. It seemed as if Amy was destined to become a teacher - but then, fate intervened. With college in the past, Amy started getting into manga. As she read more manga and began to get inspired once more, she happened upon an advertisement for Tokyopop's
Rising Stars of Manga
contest. "I began to think, 'maybe the reason that [my style] is not improving is that I'm not actually trying,'" recalls Amy, who began to spend almost every hour of every day drawing, practicing fundamental art techniques, and challenging herself to see what was she was capable of. "I saw results, and it was so exciting that I couldn't do anything else," says Amy. "It's like I woke up and discovered that I was an artist. It was very addicting, and I didn't want to do anything other than get better." Using the teaching techniques she picked up in Education courses, Amy started writing tutorials for herself based on the notes and observations she made while reading various manga and studying the styles of other artists whom she found intriguing. She credits her family for a fair share of her success, noting that her parents didn't toss their daughter out of the house when she suddenly decided to pursue art after spending years preparing for a different career. Fortunately for her parents, it wouldn't be long before Amy showed them just how much of a success she could become.
One of the fascinating aspects of Amy's work is how her narrative complements her artwork. She admits that a lot of her self-study of art techniques is tied to facial expressions, gestures, and other elements that can help further a plot without the use of words. "When I work on a comic page, I start by imagining what's going on to the point that my heart is in it," says Amy. "I think about the most important aspect of that scene and then ponder how I can make the reader feel exactly what I'm feeling." The technique is a result of her studying her favorite manga over and over again, trying to figure out the intricate ways each story draws the reader in. "You can stare at things and copy it," says Amy, "but if you can figure out what really makes it compelling - that's knowledge you can use." Other fundamental parts of her approach stem from a focus on how various creators convey the innermost thoughts of a character to the reader, such as tones, creative use of panel borders, and moments of silence. "I like reaction shots, preferably wordless ones - just to get a reaction out of the reader," she says, adding that she aspires to bring more complicated characters that hide their emotions into her work. "I like to have drama and emotional extremes in my work, but I think you get a more poignant reaction that resonates with people when the character is trying to cover that emotion up, even though it affects them." Stylistically, Amy's art style complements her narrative-focused philosophy well. Her character perspectives are richly detailed, and her backgrounds often give way to thoughts and emotional flourishes that both establish the scene and offer the reader a peek inside the mind of the characters.

Fools Gold
After being selected as a runner-up in Tokyopop's fourth Rising Stars of Manga contest, Amy began work on a submission to the publisher called Fools Gold. The series chronicles the experiences of a girl who uses a geology club as a cover for exposing the "jerks" among the boys of her school. Quirky but often deeply personal, Fools Gold may not bear much of a resemblance to Madame Xanadu at first glance, but many of the character actions and reactions show hints of the stylistic adjustments Amy would carry in her later work. Although the two-volume series was written at a time when Amy was unsure of whether art could become a lucrative career, she looks back on the project with a great deal of fondness. "I think Fools Gold is a good example of how my style has progressed," says Amy, who also used the work to practice some other techniques that she felt would help her in the future, such as sketching action sequences and gestures. The other benefit of a project like Fools Gold? "Every part of the design process was my own," recalls Amy.

Fools Gold
Around the time that
Fools Gold
was nearing the end of its two-volume run, Amy's outlook on her future as an artist was a "black veil" as she puts it; she had no idea if she would be able to find success in other corners of the comics publishing world. She was invited to do a few sample pages for other big name publishers, but sadly the pages failed to yield work. Fortunately, fate soon intervened when a former editor at Tokyopop moved on to a career at
DC Comics
, eventually landing at their Vertigo line. Vertigo had plans to create a new origin story about one of the most mysterious comics from the DC universe: the magical being known as Madame Xanadu. When asked about who should draw the project, Amy's former editor suggested that she be considered for the job. Although Amy was eager to give the project a shot, she wondered if her art would be enough to earn the support of the writer on the project - famed comic writer Matt Wagner (
Grendel, Sandman Mystery Theater
). She had just completed the second volume of
Fools Gold;
would she be a good fit? Fortunately, Matt became a fan of her style, and as Amy would soon discover, the two share a few creative traits. "Matt works with a plot-first script - a synopsis of each page, so it was something I could build off of a bit," says Amy, who admits that the project was a change from the style she was used to. "When you work with a writer, you have to take someone else's vision and internalize it so it becomes your vision as well. You have to zone out and give yourself the time to make it yours and care deeply about it." Despite the differences, Amy says that a background studying manga has given her more help in creating an "American" comic than most people might realize. "I had to do a massive fight scene between two women for a recent issue," recalls Amy, who was nervous about taking on that kind of scene for the first time in her career. Her source of inspiration? "Sailor Moon. It sounds odd, but when I recall those battle scenes [from Sailor Moon], it's something I'm more familiar with, and it puts [the fight I'm drawing] into perspective. I ask myself: what are the underlying motives? Why does she feel this way? What makes it complicated?" Although some might balk at the idea of "moon prism power" influencing the creation of a fight scene in a comic aimed at adults, the fight in
Xanadu
certainly doesn't look like anything from manga. The influence lies within the same element Amy has always focused on: portraying the emotions of the character in a way that draws the reader into the action.

Madame Xanadu
Along with Matt Wagner, inker Richard Friend, and colorist Guy Major, Amy helped make Madame Xanadu one of Vertigo's most beloved titles of 2008. Some of the success of the work could be attributed to how well the three of them work together; Amy says that Matt has been happy with her work, and according to her, "no one has ever asked me to change my style or told me, 'this looks too much like manga!'" Some observers call the "jump" or "gap" between Fools Gold and Xanadu extreme, but Amy views it as a creative progression: "I'm refining what I'm doing with [my style]. I'm still trying to define what 'my style' is and how to render things - I just add to it as I learn." However, the project was not without its pitfalls. At one point during the production of the comic, Amy injured her hand, forcing her to learn how to draw without using her thumb for support. She thought of stopping, but her attitude refused to let that happen. "I didn't want to waste the chance I had with Matt and Vertigo," recalls Amy. "I always opted to keep going." For a while, she was unsure whether her efforts would make the pain worth it. That question was answered with the announcement of the 2009 Eisner Award Nominees. Not only was Madame Xanadu nominated for four awards, but two of those awards - Best Penciler/Inker and Best Cover Artist - were specifically recognizing Amy's work. "I realized that I was truly reaching people and that they appreciated what I was doing," says Amy, whose nomination represented a turning point for artists who once carried the mantle of "OEL." Today, Amy's hand is back to normal, and she's once again back to work on Madame Xanadu, hoping to continue building on how she draws facial expressions, movement, and action. For Amy, no matter how she is labeled or how much prestige she earns, her work is still about a constant commitment to improving her style and involving the reader in new and unique ways.
Although Madame Xanadu didn't win any of the Eisners it was nominated for, the title has helped cement Amy's status as a talented artist whose style defies any kind of simple label one might assign to it. No one should expect her to slow down any time soon; she's currently working on a special issue of the House of Mystery series, which she says has given her another opportunity to "begin again" as an artist and build her skills in new ways. "Each new title is a new beginning; everything has a "jump" for me in that way," says Amy. Of course, Madame Xanadu continues to keep her busy as well, and now that she has recovered from the wrist and hand injuries she sustained while working on the series, she hopes that each issue of the comic gives her another opportunity to (as she puts it) "stretch" herself. Recalling her experience with Tokyopop, Amy says she feels a bit of a kinship with the other Tokyopop alumni who have had a tougher road. "I know that a lot of artists were working on books that were close to publication and then cancelled," says Amy. "I worry that some artists might think that such a situation is common, which isn't true. But when you can't see the end of the rainbow, so to speak, it's really hard to keep yourself going. I certainly hope that they do." One of the things that continues to keep Amy going is the hope that she will be able to return to her own projects in the future - in particular, a color comic that appeals to both the comics and manga crowd. It's an ambitious idea, but it isn't like Amy hasn't faced such challenges before. If her track record is any indication, her ambition will continue to find an audience, and that audience will continue to grow. "In the end, heart is all you need," says Amy. "If you have that and work hard, in the end, nothing can stop you."
---

Note: Due to time constraints, Amy was only able to answer two of the In Depth questions for her interview. We apologize for the shorter interview.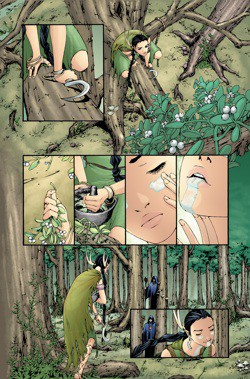 Madame Xanadu
ANN: One of the pages you submitted comes at a moment where the protagonist prepares to betray someone - a complicated moment for any character. How much direction did the script give you for a scene like this, and how much of it came down to your own creative interpretation? Why did you use the expressions you did with the protagonist as she prepares to carry out her task?
Amy: Matt works in a plot-first fashion, where he gives me a synopsis of what happens in each page. He adds dialogue and narration once I've drawn it.

In this case, he described the character running through the woods, mad at herself for trusting Merlin; then she balances on a tree bench, hacking off a hunk of mistletoe; then she grinds the berries and puts the mixture on her face--he described where the mixture would go on her face. As she rises, she notices the Stranger's been watching her. She walks off with a "determined grimace".
So from that, I chose the panel count and how to lay it out and what angles and all that. I excluded the transitional running-through-the-woods part and instead started with a close-up and zoomed out to an establishing shot, since I like opening new scenes that way. But of course, all this was in the thumbs and Matt's not afraid to tell me if something doesn't work for the story--he's the writer!

As far as the expressions go, I wanted her to look strong and serious, fighting back any type of fear or sorrow from what had happened previously. The Stranger sort of breaks that but she only smiles when she turns away.


Madame Xanadu
ANN: You're currently working in your own office/studio space. What are the pros and cons of this kind of work environment compared to the times you were freelancing from home?
Amy: I love having my own office/studio! I'm working at an office room within a civil engineering office. It's better for me than working at home, in way too many ways. I focus better, when I'm home my work isn't looking at me like a stalker, I get to go outdoors and see people regularly...I highly recommend it and I hope I'll always be able to afford it. The idea is that you make up the money because having an office makes you better with deadlines. To me, the pros of working at home are few and far between. I guess you don't have to go out into bad weather!
---
To check out Amy's work, you have a lot of options. Fools Gold and Madame Xanadu are available at fine book and comic retailers anywhere, or online. Amy's official website includes a blog, gallery, tutorials, and updates about her work. She also maintains a Deviant Art account here.
---
Are you an aspiring manga artist looking for some extra page views? Do you have a friend or loved one who draws extremely good original manga but needs a boost? Don't just sit there! Submit two links to your work, including one original piece (no file attachments please! File attachments will be eaten with 20 scoops of ice cream for my birthday), to evan [at] animenewsnetwork dot com, and you could be featured in a future Gallery column!
All works © Amy Reeder Hadley.
---
discuss this in the forum (8 posts)
|
this article has been modified since it was originally posted; see change history