×
remind me tomorrow
remind me next week
never remind me
Subscribe to the ANN Newsletter • Wake up every Sunday to a curated list of ANN's most interesting posts of the week.
read more
The List
7 Things You Didn't Know About Studio Ghibli
by Lynzee Loveridge,

If you were paying any attention to the news this week, you might have noticed an anime community-wide panic about Studio Ghibli. One of the company's co-founder's, director Toshio Suzuki, stated in a television interview that the studio is "restructuring." What that means for animation production post-Goro Miyazaki's Ronia the Robber's Daughter television anime remains to be seen. The studio has captured the hearts of film fans over its long history. Here's some of the lesser known facts of Japan's favorite studio.

7. John Lasseter and Hayao Miyazaki Are Old Friends Is it really any surprise that the mind behind Pixar and the acclaimed director from Studio Ghibli are great friends? The two met over 30 years ago while My Neighbor Totoro was still in production. Lasseter would go on to work as a producer for several of the English localizations of Miyazaki's films: Ponyo, Porco Rosso, Spirited Away, and Tales from Earthsea. Totoro also makes a cameo in Toy Story 3.







6. The Catbus Has a Worm Named After It Vietnamese researchers Thai Dran Bai and Nguyen Duc Anh discovered a new type of velvet worm in 2010. After a closer inspection, the scientists agreed that the room was reminiscent of My Neighbor Totoro's Catbus and officially named it "Eoperipatus Totoro." It's much too small to transport anything, including people, but it's still really cute.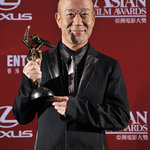 5. Composer Joe Hisaishi's Daughter is a Singer Award-winning composer Joe Hisaishi's songs are featured in classic Ghibli films to the more current works, but chances are you've heard his daughter sing too. Mai Fujisawa is the voice behind Nausicaä's theme song. Fujisawa returned to work with her father on the theme song for Level-5's role-playing game, Ni no Kuni: Wrath of the White Witch.





4. Earthbound Creator Came Up With Princess Mononoke's Tagline Movie taglines can be iconic. Think Alien's "In Space, No One Can Hear You Scream," or Ghostbuster's "Who Ya Gonna Call?" For Princess Mononoke, Ghibli turned to Japanese copywriter, essayist, and lyricist Shigesato Itoi, who might be better known to North American fans for creating the Earthbound/Mother game series. Ghibli worked with Itoi previously when he voiced Satsuki's father in My Neighbor Totoro. Itoi would submit over 50 different taglines before Ghibli agreed to "Ikiro." (Survive.)






3. Porco Rosso Was Supposed to Be an In-Flight Movie
Ghibli's film about a pilot cursed to be a pig was commissioned by Japan Airlines Company to show on their overseas flights. The target audience was weary businessmen and the studio found itself grappling with how to create an engaging film that a tired audience could enjoy. Miyazaki would later say the film became more difficult to make when real war broke out in countries near the Adriatic Sea, the same place the film is set within.






2. The Animators are Treated Really Well It's a well-known fact that being an animator in Japan means long hours and very little pay. Ghibli decided to buck the trend by offering perks to its staff. Every Saturday, massage therapists come in to give weary workers a break. There's a community lunchroom with food drinks so staffers can mingle. The studio also seems to be fans of equal opportunity hiring: the male to female ratio at the studio is nearly 50/50.






1. Hayao Miyazaki Hand-Drew The Water in Ponyo Ponyo was definitely a work of passion for the studio, which returned to drawing on traditional animation cels for the first time since Princess Mononoke. Inspired partially by Disney's The Little Mermaid, the film features a lot of ocean scenery, both above and below. Miyazaki himself drew most of the film's water and waves while experimenting with expressionist art. The results were definitely beautiful!







The new poll: What's your favorite anime couple? We'll be able to compare with the recent result in Japan. If your fav isn't listed, add it to the poll!
The old poll: What's your favorite video game company? Here's the results (all answers under 1% are omitted):
Nintendo 26.2%
Square Enix 10.3%
Atlus 9.6%
Bandai Namco 3.9%
Bethesda Softworks 3.7%
BioWare 3.6%
NIS America 2.8%
Valve 2.6%
Naughty Dog 2.5%
Ubisoft 2.4%
Sega 2.0%
CAPCOM 1.6%
Konami 1.3%
Level-5 1.3%
BUNGIE 1.2%
Rockstar Games 1.2%
EA 1.2%
Platinum Games 1.1%
XSEED 1.0%
Gust 1.0%
Otomate 1.0%
GAME FREAK 1.0%
---
When she isn't compiling lists of tropes, topics, and characters, Lynzee works as Associate Editor for Anime News Network, blogs about women and LBGT topics in anime and manga on her blog Engendered Dilemma, and posts pictures of her son on Twitter @ANN_Lynzee
.
---
discuss this in the forum (36 posts)
|