Anime Spotlight - CROSS ANGE Rondo of Angel and Dragon
by Anthony Foronda,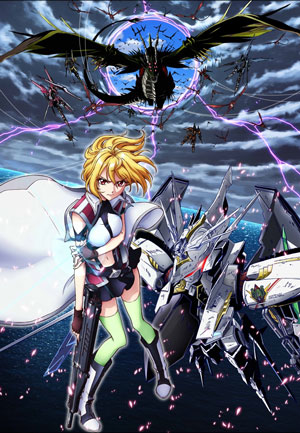 Broadcast Begins October 2014(JST)


Key Staff
Director:Yoshiharu Ashino

(First Squad- The Moment of Truth (OAV), Tweeny Witches (TV) )

Mecha Design:Junichi Akutsu

(Code Geass: Lelouch of the Rebellion (TV), Mobile Suit Gundam Seed C.E.73: -Stargazer- )

Opening Theme Song Performance:Nana Mizuki

(VALVRAVE the Liberator, Dog Days (TV), Magical Girl Lyrical Nanoha (TV) )

Introduction

I will destroy the world, and I will live.

A genuinely original TV animation series created by SUNRISE and King Records. A rich drama will be woven with Mitsuo Fukuda as creative producer and Yoshiharu Ashino as director. A group act of fighting girls centered around the main character Ange (voiced by Nana Mizuki).

Story

Mankind has acquired a highly advanced information technology known as Mana. Thanks to this almost magical force war, hunger, pollution, and every other problem on the face of the earth have been conquered. Finally the world is a utopia of peace and luxury. Angelise is the First Princess of the Empire of Misurugi. She also lives a life of luxury, is celebrated by the citizens, and is expected to wear the crown. However, the truth becomes known that she herself is a Norma. A Norma is someone who cannot use Mana. They are called Irregulars and are considered anti-social things.

With everything taken away from her, she is sent into isolation on a secluded island. There she meets Norma girls who know of nothing but fighting. They spend their days piloting transforming humanoid weapons called Para-mails to hunt giant aggressive life forms called Dragons which have invaded from another dimension.

Having lost her name, Ange becomes a warrior. But what will she see at the end of her battles? What is to be trusted? What is to be gained? The story of one girl and her determination begins here.

Characters

Ange
VA:Nana Mizuki

The beloved Angelise, First Princess of the Empire of Mitsurugi, but once it was revealed that she was a Norma, her title and name were taken from her. The position she fell to was Ange, a mere warrior who fights dragons. As she was raised as a princess, she is stubborn and full of pride. Within the base, she clashes with everyone around her for anything and everything.

Salia
VA: Eri Kitamura

The vice-captain of First Para-mail Company. A diligent, serious person. An excellent soldier but can only perform actions as written in manuals, and cannot adapt to situations on the spot and often panics. Has a secret hobby.

Hilda
VA:Yukari Tamura

Infantry in First Para-mail Company. The favorite of Captain Zola, and her skills place her very near, if not at, the top of the squad. Sarcastic and ambitious, she doesn't like the skilled new recruit Ange and antagonizes her.

Villkiss


A prototype vehicle that was abandoned within the hangar due to problems in power output and controls. The vehicle Ange was provided with after she lost her main vehicle.
Cast
Ange

Nana Mizuki

Salia

Eri Kitamura

Hilda

Yukari Tamura
Staff
Director

Yoshiharu Ashino

Creative Producer

Mitsuo Fukuda

Planning Producer

Naotake Furusato

Series Composition

Tatsuto Higuchi

Character Concept

Yusuke Matsuo

Character Design

Sayaka Ono

Para-mail Design

Junichi Akutsu

Dragon Design

Kazutaka Miyatake

Costume Design

Kurogin

General Animation Director

Tatsuya Suzuki

General Animation Director

Hiroki Harada

Art Director

Kazuo Ogura

Color Design

Yuichi Kuboki

CGI Director

Masashi Kokubo

Director of Photography

Tsunetaka Ema

Editing

Kumiko Sakamoto

Sound Director

Yota Tsuruoka

Sound

Akiko Shikata

Opening Theme

Nana Mizuki

Ending Theme

Eri Kitamura




©SUNRISE/PROJECT ANGE
---
discuss this in the forum (13 posts)
|
back to Anime Spotlight Fall 2014 - The List
Anime Spotlight homepage / archives