Oblivion Island: Haruka and the Magic Mirror Giveaway
August 7, 2012
An Animated Romp For The Young & The Young At Heart!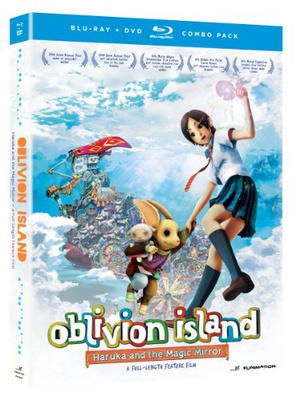 From the studio that brought you Eden of the East, FLCL and Ghost in the Shell comes an exhilarating blend of Japanese folklore and storybook charm reminiscent of Alice in Wonderland. This award-winning feature film is sure to amaze animation fans of all ages.
16-year-old Haruka is on a mission to find her mirror—a precious childhood gift from her late mother that has disappeared. On her search, she follows a strange foxlike creature to Oblivion Island, a mystical world overflowing with once-cherished items taken from their neglectful owners. Trouble follows Haruka and her new friend Teo at every turn as they contend with the island's overbearing ruler, who will stop at nothing to use the mirror for his own sinister plan!
Our friends at Funimation have given ANN a signed Oblivion Island mini poster (Signed by the voice of lead character, Haruka – Christine Marie Cabanos) and an Oblivion Island mini fan to give-away to one lucky reader (picked at random). The fan is an exclusive item that was only given away at film festivals where Oblivion Island screened.
Four additional readers (also picked at random) will receive unsigned copies of the mini poster and the fan.


Winners:
André van Renssen
Tegan Rolek
Peter K Cramer stine
Danny Hull
Mandy Watson
The Fine Print: Although unlikely to happen, Anime News Network reserves the right to cancel this contest at any time. Contest is open to any and all residents of the planet Earth and neighbour parallel dimensions, but prizes will only be shipped within the continental United States and Canada (elsewhere, you have to arrange to have it sent to someone living in the appropriate area, and they can send it to you.) Entries will not be shipped to non-military PO boxes. Winners' names will be posted on AnimeNewsNetwork.com, their mailing addresses will be provided to our shipping agent of choice (for example: USPS) and no one else. Winners' addresses and e-mail addresses will be erased once the prizes have been shipped. Non-winners' names, e-mail and mailing addresses will not be given out to any one and will be erased when the winners have been confirmed. Non-winners will not be contacted, spammed or harassed in any way. We reserve the right to retroactively add new rules when and how we see fit.
---
discuss this in the forum (13 posts)
|
this article has been modified since it was originally posted; see change history