Attack on Titan Photo Contest Winners

1. Contest Details
We invited Attack on Titan fans to submit photos of re-enactments of scenes from Attack on Titan. All sorts of wonderful and creative entries were received. We selected a number of finalists and ANN readers were invited to vote for the winners, which can be seen below.
2.Winners
PRIZES
Alec Flores: Union Creative Hdge Technical No. 5: Attack on Titan: Mikasa Ackerman PVC Statue (Training Corps Version).
Nicole Felton: MEDICOM TOY Attack on Titan Real Action Heroes Levi Figure.
Fariqul Dheo Rozaqnata: Attack on Titan Complete Season 1 Blu-ray/DVD set.
This DVD is region restricted to USA, CA, and U.S. Territories only (Region 1).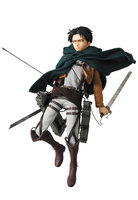 Entry Prizes
Every eligible entrant will receive 1,000 JPY (~9 USD) in WebMoney (store credit on BookWalker Global). Just for entering. Eligible entries are those with an e-mail address associated to a BookWalker Global account.
Voter Prizes
In addition to prizes for entries, randomly selected voters will also receive prizes.
Elin Gustafsson: MEDICOM TOY Attack on Titan Real Action Heroes Eren Yeager.
Eric Sewell: Attack on Titan Complete Season 1 Complete Season 1 Blu-ray/DVD set.
    *Blu-ray/DVD set is region 1, for US, CA and US territories.


1,000 JPY (~9 USD) BookWalker Global store credit Winners:
Logan Rebholz
Sonia Castro Pérez
yogesh patgar
Efrain Vergara
Liam Matheson
Tiffany Nguyen
Jennifer Freeman
Wendy Cannan
Michelle Gr
Steven Luong
Aman Vijay Singh
Lawrence Tran
Jen Fuchikami
Wisnu Wardhana
Valerie Chow
Jennifer Mei Laurana Jensen
Breanna Mullarkey
Eymeda Williams
Htoo Wah Shee
Akshi
Yi Jun Lim
Fatima Ali
Kirk Denison
Jonathan Hung
Melissa Lawrence
Alfante Regin Ralph Sy
Jordan Van Dela
Megan Smith
NASUHA BINTI RODZI
Magnus Ugelstad Olausen
Jaiden Gaddy
Nathan N.
Priscilla Duarte Segura
Robert Cargill
chris hayter
Alexandra Knurowski
Marc Levy
Jerimaiha Alaistor McCartney
Adrian Avalos
joe
benjamin nauman
shahrzad
Trevor Gudmundson
Tere Elizalde
Firdaus Mohd Sophian
Natalija
Cat Shewfelt
Marek Lopez
Michael Woo
Frances Samudio

*BookWalker will send WebMoney to winners by May 10th, 2017.
*WebMoney will be sent in units of 1,000 JPY, and is only valid for English eBooks on global.bookwalker.jp.
*WebMoney will expire on June 8th, 2017.
3. Attack on Titan Manga Season 1 Digital Bundle

Attack on Titan manga series is currently being published in English by Kodansha Comics. To see the latest news about the series, check out Kodansha Comics' Attack on Titan page.
BookWalker is KADOKAWA's official eBookstore with app for reading digital Manga & Light Novels. Come experience a new way to enjoy and collect the latest manga and light novels digitally on your PC, iOS, or Android devices. We're not just like any other eBookstore, BookWalker was made for fans like YOU.
Create a BookWalker account for FREE now!

Attack on Titan and related images © 諫山創・講談社/「進撃の巨人」製作委員会 ©Hajime Isayama,Kodansha/"ATTACK ON TITAN"Production Committee. Licensed by Kodansha through Funimation® Productions, Ltd. All Rights Reserved.
The entries above are © their creators and are reproduced here with permission. They can not be reproduced elsewhere without the creators' permission. BookWalker, Kodansha Comics, /"ATTACK ON TITAN"Production Committee and their respective partners, licensees and affiliates are not responsible for the submissions in any way.
---
discuss this in the forum (1 post)
|
back to Re-Enact Your Favorite Attack on Titan Moment!
Contest homepage / archives