Tenjo Tenge [Full Contact Edition] (GN 2)
---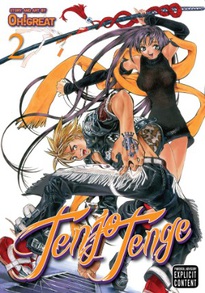 Title:
Tenjo Tenge [Full Contact Edition]
Volume:
GN 2
Pages:
440
Distributor:
Viz Media
Release date: 2011-08-02
Suggested retail price: $17.99
Age rating: 17+

SKU: CTTJT-02
ISBN-10: 1421540096 1421540096
ISBN-13: 9781421540092 9781421540092

Description:
Soichiro, Bob, and the rest of the Juken Club are split up and attacked one-on-one by the strongest members of the Executive Council. A round of face-crushing battle begins, with the opponents on both sides driven by very personal reasons for the fight. Things seem to be swinging the Juken Club's way... until the last player arrives on the scene: Mitsuomi Takayanagi, the monstrously powerful chairman of the Executive Council.

In the aftermath of the battle Maya Natsume, head of the Juken Club, decides to drop out of school, leaving the other members to wonder about the fate of the club - and about the strange bond between Mitsuomi and Maya.

Story and art by Oh!Great.
(added on 2011-02-06, modified on 2011-02-06)

One of the most critically acclaimed videogame adaptations ever, Rage of Bahamut: Genesis is out on bluray now. Theron Martin swashbuckles his way through the set.
― Now this is how you make a game adaptation! Specifically, Genesis is a companion piece to the app-based card battle game Rage of Bahamut, which at the height of its popularity had a worldwide English language user base in excess of three...
"Oh, you also use computers?" is a common phrase you might hear in anime; why is "using a computer" is still sometimes treated as a hobby in anime?
― Shomik asks: When I was watching Tanaka-kun is Always Listless, which takes place in the present day, as well as playing the visual novel Root Double, which takes place in 2030 (and written a year or two ago), I come across lines like "Oh, you can use ...
Everyone's favorite short-skirted space bucaneers are back with a feature-length film bursting with positive energy and some decent animation - Paul takes a look. PLUS: this week's new releases!
― Memorial Day weekend carries a little extra significance for strange folks like me who follow motor racing. The Indianapolis 500 and the Monaco Grand Prix are both held on Sunday, which means I can watch t...
Akame ga Kill's second half winds up being kind of a letdown thanks to some mishandled story elements and a misbegotten romance - Rebecca Silverman takes a look.
― Akame ga Kill may have a bit too high an opinion of its ability to be symbolic. While it is true that the first half managed to slip in some philosophy about killing being bad no matter what its purpose and to juxtapose the happy family li...
Liones may be saved, but things are far from over as life starts to take a much darker turn for Meliodas and his merry band. If the Seven Deadly Sins are good guys, then what are the Ten Commandments likely to be...?
― Technically speaking, this volume of Nakaba Suzuki's semi-concealed Arthurian fantasy picks up where the first season of the anime ends – Hendrikson is defeated and life is starting to...
Dating sim games have become increasingly awesome over the years, allowing you to date dinosaurs, bug men, alpacas, and all sorts of strange stuff. Here are seven of the weirdest!
― Romance simulators, and more recently romance training game hybrids, are always looking for a new way to spin the "one protagonist, many love interests" set-up. A company can only push so many run-of-the-mill high school...
The fantasy novel series' first story arc comes to an end in the best-edited volume of the series yet. It answers a lot of questions while setting the story up for an interesting continuation.
― This volume essentially brings part one of The Rising of the Shield Hero novel series to a close, wrapping up the problems that have been plaguing Naofumi, the eponymous Shield Hero, since he was first summon...
Checks are strongly encouraged for Artist Alley, press, guests, performers, vendors
― The Society for the Promotion of Japanese Animation (SPJA), the California-based non-profit organization behind Anime Expo, announced on Friday that the criminal background check requirement it introduced as part of its Youth Protection Program are now only mandatory for its own employees and volunteers. Background ...
Zac took a trip to the Lost Village and wants answers from Jacob and special guest Nick Creamer, who joins the show for some live questions and a whole lot of debate about this season's big shows!
― ANNCast Episode 259: Nicholas' Cage Zac took a trip to the Lost Village and wants answers from Jacob and special guest Nick Creamer, who joins the show for some live questions and a whole lot of debate a...
A disappointing theatrical exhibition of a Ghibli classic leads one reader to ask Justin why we sometimes see pixels and other low-resolution artifacts even on the silver screen.
― Will asks: I've had the good fortune to be able to see numerous anime films at the cinema over the years - most recently your favourite, Only Yesterday. As I like to immerse myself in the visuals I prefer to sit towards t...
Even in this age of gritty superhero reboots, My Hero Academia has an undeniably optimistic idea of what heroes really are - Nick Creamer gets into it.
― There's just something about heroes. Soaring through the sky or charging across the earth, brows furrowed, ready for action. Halting the spread of evil, or simply offering assistance where they can. Pursuing an ideal of justice, carrying the hopes o...
A gross and fascinating look at what would happen if a zombie apocalypse hit a world where no one knew their zombie lore and was too wrapped up in the everyday to realize what was coming.
― What sets I am a Hero apart from all the other zombie manga and novels out there? I would say that it is the realism of it. Not realism as in the cause of the outbreak is particularly convincing or that the story ...