Interest

Oreimo's In-Anime Game Siscalypse Offered in Japan (Updated)

posted on by Sarah Nelkin
Player selects "sister" to fight vs. computer, others in 2D battle social game
---

The Japanese media distributor Kadokawa Contents Gate launched Shin Imōto Taisen Siscalypse (True Little Sister Apocalypse Siscalypse), the fictional game seen within the Oreimo anime series, as an actual game on the Yahoo! MobaGe service in Japan on Thursday. In the anime, a boy discovers that his little sister is a secret fan of adult computer games, including Siscalypse. The basic game of the real-life Siscalypse is free with Yahoo! Japan ID and MobaGe ID accounts, although Kadokawa Contents Gate plans to charge for items that will be added in the future.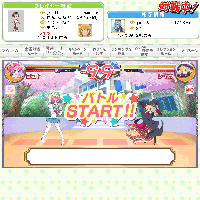 The game seen in the television anime has been turned into a "2D battle social game" in real life. The player selects a "little sister" character and chooses between several playing modes: versus a computer-controlled character, versus other users, a cooperative mode with a friend on the service, or a single-player campaign mode against computer-controlled characters.

By fighting many kinds of battles, the player can gain experience points and use them to make the little sister character stronger. From there, the player can get new "little sister" characters, super special moves for the characters, rare items, events with prizes on the line, and various other features that Kadokawa Contents Gate will add to the game in the future.
[The images below are from thumbnail samples of the game, and do not represent the full resolution of the game.]

Source: Dengeki
Images © Tsukasa Fushimi/ASCII Media Works/OIP
© Kadokawa Group Holdings
© Kadokawa Contents Gate
Update: The game runs on personal computers with Japanese language support via a web browser (Internet Explorer or FireFox) and Adobe Flash Player.
---