Interest

Former Prime Minister Asō Is Now an Anime 'Envoy'

posted on by Gia Manry
Politician/manga fan Taro Aso to attend Beijing anime event in June
---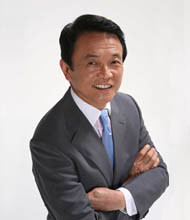 Taro Asō, the former Prime Minister of Japan, will serve as an envoy to Japan specifically to promote anime. He will attend the Beijing Movie and TV Week's Anime Festival, which the governments of China and Japan co-organized, from June 8 to 13 in that capacity.
Aso is a self-professed anime and manga fan who was elected Prime Minister in 2008. Aso stepped down in 2009 after his Liberal Democratic Party (LDP) lost its majority in the nation's parliament to the Democratic Party of Japan (DPJ). He received the nickname "Rozen Aso" due to an unverified report that he reads the Peach-Pit manga Rozen Maiden, although he has not confirmed it himself.
Before being elected Prime Minister, Aso served as a foreign minister and gained a reputation for using anime and manga as examples of cultural exchange. In April of 2007, he urged French presidential candidate Segolene Royal to "read a little bit more" manga after she criticized Japanese society for what she perceived to be a high degree of tolerance for expressions of violence and pornography in popular culture. The next month, he spearheaded the first International Manga Award, and his Foreign Ministry hosted a meeting of International Cosplay Summit participants later that year.
Sources: Yomiuri, The Japan Times
---