Interest

Kagura Game Holds Election for Who to Put on Book Cover

posted on by Egan Loo
Votes cast on Twitter for bonus cover girl of Nintendo 3DS hyper-battle game
---

The official website for the upcoming Nintendo 3DS game Senran Kagura is holding a senbatsu sōsenkyō (general election) for which character will be the cover girl on the bonus item Shōjotachi no Himitsu File (The Secret File of the Girls, pictured at left).
Marvelous Entertainment bills the September 22 3D title as a "bursting-breasts hyper-battle" game. Buyers who pre-order the game will receive the Shōjotachi no Himitsu File, an illustration book by character designer Nan Yaegashi with the "secrets" of the girl characters and a soundtrack/original drama CD.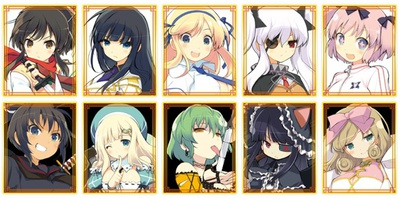 To vote, people must use the following links to send Twitter messages for their favorite characters (pictured from left to right, top to bottom) between June 10 and June 30:
The election is modeled after the annual
senbatsu sōsenkyō
that the all-female idol group AKB48 holds to determine the group's next break-out stars.
[Via Ota-Suke]
---