Interest

.hack//The Movie Blu-ray Not Listed with PlayStation 3 Game

posted on

2011-08-24

19:40 EDT by Egan Loo
Game Watch: Tekken: Blood Vengeance is the one that will ship in hybrid BD with game
---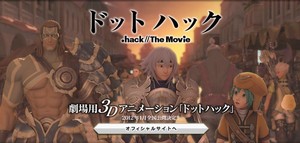 The Japanese game news site Game Watch posted an errata to its article which had originally reported on Tuesday that the .hack//The Movie Blu-ray Disc would ship in Japan on a hybrid Blu-ray Disc with a PlayStation 3 game. Game Watch acknowledged that it is another movie, Tekken: Blood Vengeance, would ship on a hybrid Blu-ray Disc with a game. Bandai Namco Games discussed both movies during its Tuesday press conference.
Hiroshi Matsuyama, the president of the .hack franchise's CyberConnect2, had retweeted Game Watch's headline about a hybrid .hack//The Movie release on Tuesday. However, he then made a post later in the day to emphasize, "It's not an extra!"
Thanks to dothackers and Emerje for the tips.
Image © .hack Conglomerate
---
follow-up of
.hack//The Movie Blu-ray to Bundle PlayStation 3 Game