Interest

Family Mart Convenience Store Chain Begins Crowdsourced Hatsune Miku Promotional Campaign

posted on by Ko Ransom
Hatsune Miku Google+ account also begins curated "Creator's Project"
---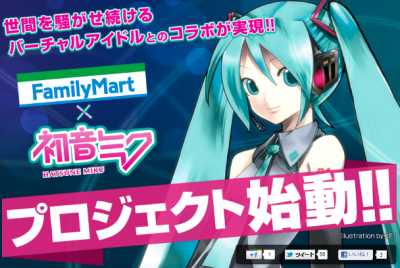 The Japanese convenience store chain Family Mart has opened a teaser site for a crowdsourced Hatsune Miku promotional campaign they will begin running in late March. During the first stage of the campaign, they will poll users and customers regarding how they would like to see the long-term campaign proceed.
The teaser site suggests that they will ask users questions such as what kind of songs they would like to hear played in stores, what kinds of promotional items they would like to be able to buy, and what stores they would like to see decorated with the Vocaloid idol's likeness, similar to how four stores were earlier this month. The Family Mart online shop has also started selling limited edition "Sakura Miku" and "Snow Miku" goods.
The official Hatsune Miku Google+ page also announced the launch of the "Everyone, Creator." project in order to introduce more fans of the virtual idol to the creative process behind Hatsune Miku-related media. The post was made in both English and Japanese, and the project will be curated by the editor and planner Ayukawa Pate. Last year, a Japanese Google Chrome advertisement featuring Miku was streamed.
[Via Hatsune Miku Miku (2)]
---