Interest

Bandai Toy Combines 6 Disney Characters Into 1 Robot

posted on by Egan Loo
Chōgōkin King Robo Mickey & Friends Is Tamashii Nations' 1st original transforming robot
---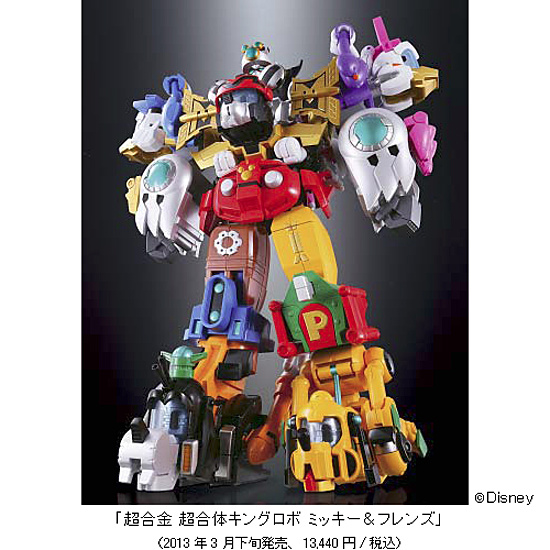 Tamashii Nations, Bandai's high-end brand that is famous for anime collectibles, confirmed on Monday that it is taking a different tack with Chōgōkin King Robo Mickey & Friends — robot mecha for six Disney characters. The six robots in turn combine to form a giant 22-centimeter-tall (about 9-inch-tall) robot:

Jet Mickey: Torso
Sky Minnie: Torso
Diver Donald: Right arm
Aqua Daisy: Left arm
Land Goofy: Right leg
Dash Pluto (+ Doghouse): Left leg
Ace Willie (an homage to Mickey Mouse's first animated short, "Steamboat Willie"): Head

Bandai will unveil the robot during its Tamashii Nations 2012 event, which will run in Tokyo from October 26 to October 28. The maker plans to release the toy late next March for 13,440 yen (about US$168).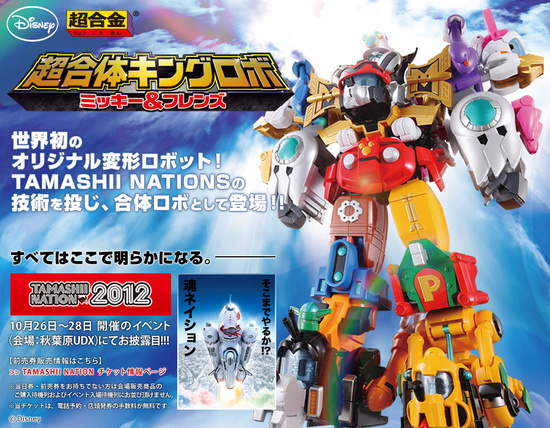 [Via Autobase Aichi, TFW2005]
---