Interest

Tales of Symphonia Chronicles' European Release to Include Japanese Voices

posted on

2013-07-04

14:40 EDT by Crystalyn Hodgkins
Both games to ship on PS3 with dual audio in early 2014
---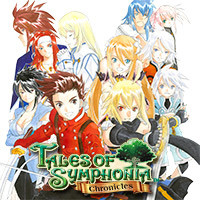 Namco Bandai Games Europe revealed on Wednesday at Japan Expo in Paris that its release of the Tales of Symphonia Chronicles game will include the Japanese audio track. The game is set to ship in Europe and Australasia for the PlayStation 3 in early 2014. The game will mark the first time a European release of a Tales of title will include a Japanese audio track. The European release will include subtitles in English, German, French, Italian, and Spanish, and will also include the English audio track.
Tales of producer Hideo Baba confirmed last month that the game would be getting an overseas release in 2014.
The Playstation 3 game will bundle both the original Tales of Symphonia game containing the features from the Playstation 2 port, as well as the Tales of Symphonia: Ratatosk no Kishi (known as Tales of Symphonia: Dawn of the New World in North America) sequel for the Nintendo Wii.
The remaster will feature new cover art, new Mystic Artes cut-in images, and new Tales of the Abyss-themed costumes for Lloyd and Genius (Genis in North America). All three theme songs for the game's Japanese release will be remixed for Tales of Symphonia Chronicles, including Day After Tomorrow's "Starry Heavens" and "Soshite Boku ni Dekiru Koto" opening themes that were used for the original game's Gamecube and Playstation 2 releases respectively, and Misono's "Ninin Sankyaku" song that served as the sequel's opening theme.
The original Tales of Symphonia game was released in Japan for the Nintendo Gamecube in 2003, with an improved port with new features being released for the Playstation 2 in 2004. A sequel for the Nintendo Wii titled Tales of Symphonia: Ratatosk no Kishi (Tales of Symphonia: Knight of Ratatosk) was released in Japan in 2008. All games were released in North America, with the exception of the Playstation 2 improved port. An OVA project with animation production by ufotable was green-lit in 2007, with the final episode being released last October.
The game is scheduled to be released in Japan on October 10.
---