Interest

Detective Conan Criminal Manga Reveals Secret of Cup Noodle's Mystery Meat

posted on by Jennifer Sherman
Fans of Nissin Foods' Cup Noodle instant ramen may know of the freeze-dried "mystery meat" cubes included in some varieties. The cubes are officially called "dice minchi" (diced mince), but Nissin Foods hasn't openly discussed what the mystery meat is actually made of. The company finally decided to reveal the secret of Cup Noodle's meat cubes in Mayuko Kanba's Detective Conan: Hannin no Hanzawa-san (Hanzawa-san the Criminal) manga.

A special website for Cup Noodle's collaboration with the manga opened on Monday. The site features a chapter of the manga that reveals the true nature of the famous mystery meat on the last page.

In the chapter's story, the black-silhouetted "criminal" that appears in Detective Conan to represent mystery culprits decides to start working at Nissin Foods. His goal is to climb the ranks to eventually expose the truth of the biggest secret of the "dark corporation." Through diligent work, he knows he can uncover the secret of Cup Noodle's mystery meat in time.
One day, the head of the company's PR department asks the criminal to make copies of a proposal for a certain campaign. While making the copies, the criminal discovers that the project will reveal the secret the mystery meat. The criminal is shocked and outraged that the company would reveal the truth in such a simple and frivolous way after he had been working so hard to earn the means to learn the secret.
The criminal confronts the PR head and protests the idea of the campaign's reveal. However, the PR head seems to know that the criminal actually does want to know the secret. He taunts hims and teases the truth. The criminal attacks the PR head, runs away, and creates an explosion. However, the PR head writes the secret in mystery meat chunks on the floor before he apparently dies.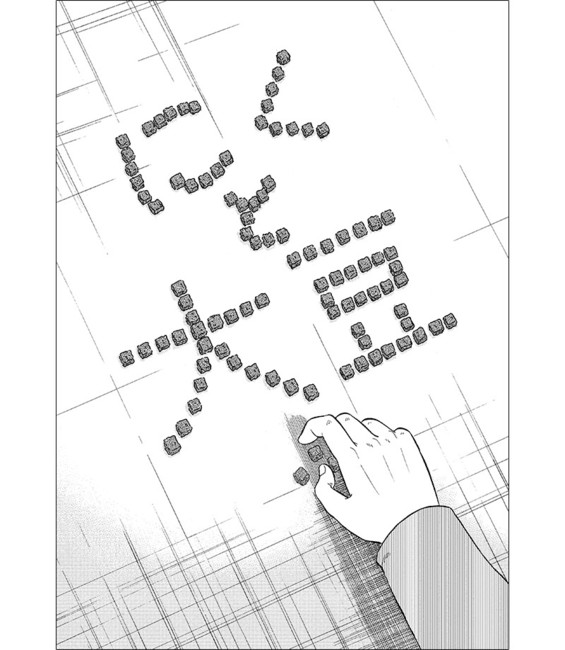 Nissin Foods revealed on the website that the key ingredients in the mystery meat cubes are meat and soy. The base of the regular mystery meat chunks is pork, and the base of the white mystery meat chunks is chicken. The company decided to reveal the secret of Cup Noodle's mystery meat for the product's 46th anniversary. Nissin Foods explained that this "hybrid meat of the near future" can help to mitigate the world's impending food supply crisis as the population continues to rise.
A special "mystery meat festival double" variety of Cup Noodle with extra mystery meat and white mystery meat chunks went on sale in Japan on Monday.
Kanba launched the gag manga in Shogakukan's Shōnen Sunday S magazine on May 25. The first compiled book volume will ship on December 18.
Source: Comic Natalie
---