News

Kenji Kawai, L'Arc-en-Ciel to Create Gundam 00's Music

posted on by Egan Loo
Video walkthroughs of
Gundam
park attraction with 18-meter robot posted
---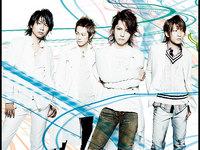 The official Japanese website for this October's Mobile Suit Gundam 00 robot war television series revealed that renowned composer Kenji Kawai (Ghost in the Shell movies, Death Note live-action movies) will score its soundtrack. Sony Music also announced that the rock band L'Arc-en-Ciel (Fullmetal Alchemist's "Ready Steady Go," Rurouni Kenshin's "Fourth Avenue Cafe") will sing the theme song "Daybreak's Bell," which goes on sale on October 10. Science fiction consultant Tomohiro Chiba (Mobile Suit Gundam Side Story: The Blue Destiny, Mobile Suit Gundam Seed Astray) and mechanical designer Kenji Teraoka (Ghost in the Shell: Stand Alone Complex, Code Geass: Lelouch of the Rebellion) are working as "science fiction researchers" for the series.
Separately, BPTV posted a two-part video walkthough of the Gundam Crisis amusement park attraction with an 18-meter (59-feet), life-size Gundam model. Mantan published photographs from the opening day, including ones of Amuro Ray's character voice Tohru Furuya entering the robot's cockpit and Gundam creator Yoshiyuki Tomino perched on top of his most famous creation.
Source: Gunota Headlines
Errata: Tomohiro Chiba's credit corrected. Thanks, Vekou.
---