News

Tokyo FM Broadcasts, Uploads 1st Radio Ghibli Episode

posted on by Egan Loo
Producer explains studio's name, previews next movie's song next week
---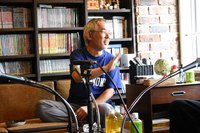 Tokyo FM's network of 38 radio affiliates in Japan broadcasted the premiere of the tentatively titled Radio Ghibli program and posted a downloadable MP3 file of it Sunday. The program's host, Studio Ghibli producer Toshio Suzuki, explained that his studio's name begins with a "ji-" sound instead of a hard "gi-" sound because famed director Hayao Miyazaki made a pronunciation mistake on the Italian word for "hot Saharan wind." Suzuki acknowledges that Miyazaki wanted to change the movie title Princess Mononoke to "Ashitaka Sekki" (The Legend of Ashitaka) after revamping the story from a whimsical tale of a girl who marries a mononoke (a mythical Japanese spirit) to an adventure story about a boy named Ashitaka. However, Suzuki preferred the first name instead and forced the issue by broadcasting a movie preview with the first name.
The Nausicaa.net website reports that the program will preview the theme song for Miyazaki's next film, Ponyo on a Cliff, on next week's episode. Ghibli's longtime composer Jo Hisaishi created a "happy-go-lucky song" that will be offered for sale on December 5, over half a year before the movie's Summer 2008 opening.
Image © Tokyo FM Broadcasting Co., Ltd. All Rights Reserved.
---