News

Seven Seas Adds Inukami! Manga, Kuro Majo-san Novels

posted on by Egan Loo
Supernatural fantasy titles to be published under the Tor/
Seven Seas
imprint
---

Jason DeAngelis, the founder and president of the Seven Seas Entertainment manga publisher, has confirmed with ANN that his new Tor/Seven Seas imprint has licensed two new titles: Mamizu Arisawa and Mari Matsuzawa's Inukami! manga series and Hiroshi Ishizaki's Kuro Majo-san ga Touru!! novel series. The Inukami! manga is based on Arisawa's light novel series about the adventures of a beautiful doglike entity named Yōko and a boy named Keita who becomes Yōko's "tamer" — even though Keita's family of tamers had forsaken him for apparently lacking the hereditary ability to attain an Inukami ("dog deity") before. Matsuzawa has been serializing the manga in MediaWorks' Monthly Dengeki Comic GAO! magazine since 2005, and MediaWorks has published four complied volumes so far. The original light novels were also adapted into a 2006 television anime series, a 2007 theatrical anime sequel, and several music and audio drama CDs.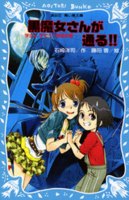 The Kuro Majo-san ga Touru!! (roughly translated, ""Here's Comes the Black Witch!!") novels began as a short story in the Omoshiroi Hanashi ga Yomitai! Shōryū-Hen (I Want to Read Interesting Stories! Blue Dragon Volume) anthology from Kodansha's Aoitori Bunko imprint, but later branched out as a standalone series with seven volumes thus far. The story revolves around a fifth-grade Tokyo girl named Chiyoko "CHOCO" Kurotori and her three friends Megu, Mai, and Yuri. The girls want to know whether a cute boy in their class likes one of them, so CHOCO, who dabbles in magic and fortune-telling, tries to summon "Cupid-san." However, she accidentally summons a real witch named Gubid-san, who declares that CHOCO is a witch herself — albeit a low-class one. The children's novels have sold more than 900,000 copies in Japan so far, mainly to girls 8 to 12 years old.
The twin announcements were made in the Publishers Weekly trade magazine, which covered the launch of the Tor/Seven Seas imprint. In its article, the magazine interviewed Steve Kleckner (Macmillan vice-president of merchandise and sales), DeAngelis, and Tom Doherty (Tor Books publisher). The three discussed the imprint's plan to release 70 books in 2008 with Seven Seas' manga expertise and Tor's capital and distribution.
---