News

Pop Japan Travel Sets "Mind Over Manga" Tour Prices

posted on

2008-06-04

05:12 EDT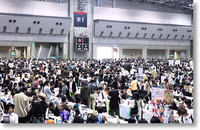 Pop Japan Travel, the travel agency which specializes in Japan tourist packages aimed at the anime fan market, has released the full details for its Mind Over Manga tour. The tour which will bring participants to the Comitia dōjinshi event and give them an opportunity to sell their own comics to Japanese audiences. Mind Over Manga will run from August 21 to August 27, with an optional August 28-30 extension to Kyoto, Osaka, and Hiroshima. It is priced at US$2,198, plus a US$235 fuel surcharge, which includes double accommodations, air fare from Los Angeles to Tokyo, and all Tokyo-area tours, including the Ghibli Museum, the Comitia dojinshi market, and a visit to an unspecified anime studio. The reservation deadline is July 14.
In addition, PJT is offering a customized package of publishing services to tour participants who would like to actually sell their own works at Comitia. The package includes printing full-color cover pages and black-and-white inside pages in B5 (182 mm x 257 mm) size. There is a minimum order size of 20 pages and 50 copies, increasing in increments of four pages per issue and fifty issues per order. The price for a 100-copy printing of a 32-page book is US$510.60, and full pricing details are available on the PJT website. Pop Japan will then deliver the finished order to Tokyo and present it for sale at its Comitia booth.
PJT is also offering to translate and letter any manga submitted, at a rate of US$8 a page and US$0.06 a word. This is an optional service, and not required if the manga creator would like to letter and translate his or her own work, or if it is meant to be sold in English. In either case, all rights to the manga will be retained by the creator, and he or she will be able to set the sale price. Pop Japan's assistance will be considered work-for-hire, and the author may then reuse or reproduce it with no restrictions.
---
back to Daily Briefs
News homepage / archives