News

Tales from Earthsea Opens in Select U.S. Cities Today

posted on by Heather Skinner
Ghibli's film of
Ursula K. Le Guin
's fantasy stories in NYC, LA, SF, Seattle, Honolulu
---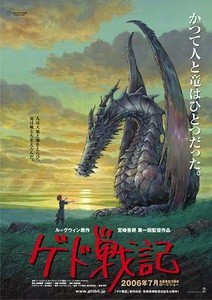 Goro Miyazaki and Studio Ghibli's Tales from Earthsea (Gedo Senki) film is opening in select cities in the United States on Friday.
The film adapts Ursula K. Le Guin's Earthsea fantasy novels with the English dubbing cast of Blaire Restaneo, Matt Levin, Timothy Dalton, Cheech Marin, Mariska Hargitay, and Willem Dafoe.
The film will be opening in the following cities:
• New York (Angelika/Manhattan) 11:30 a.m. — 2:00 p.m. — 4:30 — 7:00 — 9:30 — (Fri/Sat only) 12:00 a.m.
• Los Angeles (The Landmark) 11:50 a.m. — 2:20 p.m. — 4:50 — 7:20 — 9:45
• San Francisco (The Kabuki) 1:40 p.m. — 4:20 — 7:20 — 9:35
• Seattle (Harvard Exit) 1:30 p.m. — 4:15 — 7:00 — 9:40
• Honolulu (Victoria Ward) 11:30 a.m. — 2:30 p.m. — 4:30 —7:00 — 9:30
---