News

Yu-Gi-Oh! Zexal TV Anime Scheduled for April 11

posted on

2011-02-21

19:32 EST by Egan Loo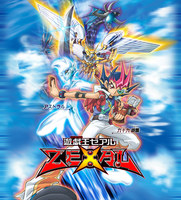 The Japanese broadcaster TV Tokyo has relaunched its website for the new Yu-Gi-Oh! Zexal anime series on Sunday and confirmed the anime's premiere date. The anime will premiere on Monday, April 11 at 7:30 p.m. on TV Tokyo and its network affiliates nationwide. The near-future story revolves around Yūma Tukumo, a 13-year-old rookie duelist, and Astral, the mysterious lifeform from a parallel world who suddenly appears before Yūma.
The new series will be the fourth one in the franchise to air on TV Tokyo after Yu-Gi-Oh! Duel Monsters, Yu-Gi-Oh! Duel Monster GX, and the current Yu-Gi-Oh! 5D's. The manga version already launched in the February issue of Shueisha's V Jump magazine.
Source: Saishin Anime Jōhō
---
discuss this in the forum (1 post)
|
bookmark/share with:
RightStuf - Anime, Manga and More
Anime DVDs and Blurays are often sold together in a combo pack that provides both formats - but what if you only wanted one or the other? Justin gets in to the reasons media is most commonly sold this way.
― Danette asked: Ever since Viz started started releasing the new Sailor Moon BD/DVD box sets I've stuck with the standard DVD editions over the BD/DVD editions because it doesn't make sense to me...
This classic '80s OVA gets a new release, but does it still hold up over thirty years later? Paul Jensen finds out. Plus, all this week's new anime releases!
― A friend of mine is headed to Anime NYC next weekend. I'm not, which means I get the dubious pleasure of having a thoroughly normal weekend while getting bombarded with texts and pictures from the convention. If you're going, have fun! If not...
This unusual take on an office comedy takes place in a high-security prison where the inmates and guards alike are fabulously crazy. James Beckett has the details.
― Nanbaka is one of the most flamboyant anime I've ever seen – this may be a show about a gang of rapscallions trying to bust out of jail and annoy the prison guard, but I'll be damned if Jyugo and the gang don't all look good doing it. Ev...
The Fall 2018 anime season is well underway, and we're busy reviewing all of this season's new English dubs!
Simuldubs Available Now: Golden Kamuy Season 2 - Fairy Tail: The Final Season - Ace Attorney Season 2 - Senran Kagura Shinovi Master - Conception - Hinomaru Sumo - Ulysses: Jeanne d'Arc and the Alchemist Knight - Radiant - Double Decker! - SSSS.GRIDMAN
― Welcome to Anime News Network's Fall 2...
Mike digs through Trigger's dusty reference bin to discover the influences that led to SSSS.Gridman, along with some of the studio's other most idiosyncratic works!
― A couple of years back, I was a guest at Anime Next, a fun, lively event that takes place in Atlantic City each June. Anime Next is part of a rare, kinda disappointingly small group of North American events that put the priority squarel...
Most people might be familiar with the Disney version of The Little Mermaid, but anime has riffed on merfolk legends countless times - here are 7 of 'em!
― Before The Little Mermaid recast seafolk as tragic romantic heroes, sirens were creatures you never wanted to encounter on the open ocean. Spotting one or more appropriately hearing one meant you and your fellow shipmates earned a one-way ticket ...
Zac and Jacob dive back in to the controversial sequel Madoka Magica: Rebellion for its 5th anniversary and embark on a tour of the writing evolution of Gen Urobuchi through Madoka, Psycho-Pass and Thunderbolt Fantasy!
― ANNCast 340 - The Thing About My Dokes Zac and Jacob dive back in to the controversial sequel Madoka Magica: Rebellion for its 5th anniversary and embark on a tour of the writing ev...
Sword Art Online and Yuuna and the Haunted Hot Springs theme song vocalist Luna Haruna is performing at Anime NYC's Anisong World Matsuri event next weekend, and had the time for a few questions.
― With her tender yet powerful vocals, Luna Haruna has made a strong impression on the anisong scene, contributing theme songs to hit shows from Sword Art Online to Saekano to this summer's Yuuna and the Hau...
The director behind thrilling psychological adventure game The Caligula Effect talks in-depth about the anime adaptation and the game's splashy rerelease slated for 2019.
― Two years ago, developer FuRyu released a collaboration with Persona 1 and 2 writer Tadashi Satomi, The Caligula Effect, exclusively on PSVita. However, next year will be the opportunity to revisit this sci-fi psychological concep...
Melodias and his friends return in this full second season available on Netflix! Theron Martin has the details.
― Revival of the Commandments is the true second season of The Seven Deadly Sins. Viewers could probably get by with skipping the four-episode interlude Signs of Holy War and still fully understand what's going on here, as this is where the main plotline continues, but I still recommend wat...