News

Demonbane Game Ships in U.S. 22 Months After Announcement

posted on

2011-05-16

23:29 EDT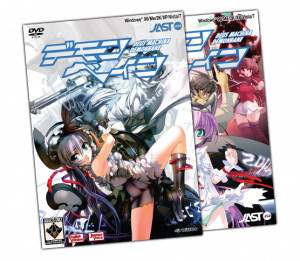 The Japanese game studio Nitroplus and the English localization company JAST USA announced that the Deus Machina Demonbane adult computer game is available for purchase in English, about 22 months after the announcement of its license. The Demonbane bishōjo game series inspired the 2004 Demonbane video anime and the 2006 Demonbane television anime series. JAST USA first announced its licensing of the Demonbane game in July of 2009. The media-distribution website Crunchyroll began streaming the television series outside Japan last year.
The DVD-ROM version is currently available through three online retailers for US$39.95, and a download version will be available soon.
The limited edition package includes:
a DVD case with cover illustration from the original game release
a slipcase with the DVD release cover illustration
a 16-page full-color art book and manual
[Via J-List]
---
discuss this in the forum (4 posts)
|
bookmark/share with:
RightStuf - Anime, Manga and More
Warner Bros. live-action FMA movie has finally arrived on Netflix to surprisingly little fanfare. We discover why this particular project didn't get the U.S. theatrical attention of its peers.
― Warner Bros. live-action FMA film has finally arrived on Netflix to surprisingly little fanfare. This week in anime, Nick and Jacob discover why this particular project didn't get the U.S. theatrical attentio...
Attack on Titan's Bryce Papenbrook and Kill la Kill's David Vincent sit down for a chat about their new approach to connecting fans and voice actors.
― Fans may recognize veteran voice actors Bryce Papenbrook (Attack on Titan, Sword Art Online) and David Vincent (Fate/Zero, Kill La Kill) from their work in a number of anime and video game series, but the two have a unique off-screen collaboration, as...
Heidi takes the Secret of Mana remake for a spin, plus Namco's Catalog IP project, Metal Gear Survive, Dragon Ball FighterZ DLC and a whole lot more!
― It's another one of those slow news weeks, which means I can take a bit of space in this column to babble about something I'm particularly interested in. This week, I've got the perfect excuse to talk about two things I really like: the mobile game Go...
The final arc in the Utena saga has arrived on blu-ray, alongside the opulent Adolescence of Utena film. Rebecca Silverman looks back on how this classic concluded.
― With this final arc of the Revolutionary Girl Utena narrative, the story throws all subtlety out the window. That's not strictly a negative in terms of getting the most out of everything the series has built up, because when the visuals...
Wow! Hundreds of millions of dollars are flowing into the anime industry thanks to streaming! Is any of that money going to the people who actually make anime? Justin gets into it.
― Custom Gundam asked: With ANN recently reporting that Crunchyroll royalties to the Japanese industry exceed US $100 million and also the huge amount recieved from global companies like Netflix and Amazon and also the va...
Take a journey back in time with Daryl Surat, when many people were introduced to anime through heartwarming films like My Neighbor Totoro and Grave of the Fireflies. But what forgotten gems lie sleeping in this long-ago year?
― Every so often, I get questions regarding what the value is in observing what works of popular culture remain worth watching, decades after their creation. But nearly three m...
This beloved 2000s megahit is the newest to get a live-action update to the big screen, now available on Netflix after its theatrical run in Japan. Theron Martin finds out if this movie can live up to fans' expectations.
― Fullmetal Alchemist was one of the most popular and successful anime/manga franchises of the 2000s, so the only surprise surrounding this live-action adaptation might be that it di...
Citrus has turned a few heads with its incestuous twist on lesbian romance. We suss out whether this makes for a juicy love story or just sour pulp.
― Citrus has turned a few heads with its incestuous twist on lesbian romance. This week in anime, Michelle and Steve suss out whether this makes for a juicy love story or just sour pulp. Disclaimer: The views and opinions expressed by the participants in...
Hiromu Arakawa's pastoral drama about the highs and lows of farm living at an agricultural college is a far cry from Fullmetal Alchemist, but just as rewarding. Rebecca Silverman has the details.
― Hiromu Arakawa's agricultural coming of age tale's anime adaptation reached English-speakers long before now, which makes it feel like a real treat to finally get the chance to read the manga. Based roughl...
Vice wants his next costume to reel in the ladies, but he's fresh out of sexy ideas. Thankfully, Perry has some great advice!
―
Paul discovers a hidden gem in a surprisingly lazy package with this lovely slice-of-life comedy. Plus, all this week's new anime releases and a brand-new Shelf Obsessed!
― I've been working on putting together a Star Wars model kit recently, and holy heck that process is easier if you have a decent set of the appropriate tools. It's almost a relaxing experience when you don't have to threaten each ...
This attempt at a gritty action spectacle falls prey to confusing storytelling and baffling editing. Theron Martin examines what went wrong.
― In the Summer 2016 Preview Guide, I gave the first episode of this manga adaptation a middling score, saying that it isn't without potential. Rarely have I looked back at a review and been more perplexed at what I wrote, as on a second view that first episode ...
There sure are a lot of gambling anime, but what's it actually like to gamble in Japan? Does anime paint an accurate picture? Justin gets into it.
― Jake asked: I have recently been watching Kakegurui Compulsive Gambler on Netflix and it has me curious about gambling in Japan. Gambling is in a ton of anime from Samurai Champloo to Kaiji. Mostly I am familiar with the basic odd even dice game as well...