News

Bandai Entertainment to Reissue Akira on DVD

posted on

2011-07-24

22:08 EDT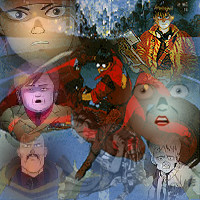 Bandai Entertainment's panel at Comic-Con International on Friday included the announcement that the company would reissue Katsuhiro Otomo's 1988 classic Akira on DVD. The film's most recent U.S. reissue was as a Blu-ray Disc in February 2008, coinciding with the film's Japanese debut in the same format. Akira's most recent reissue on DVD in the U.S. was in 2004 under the "Geneon Signature Series" heading.
Bandai made no mention in the panel about whether or not anything would be updated for the new DVD release.
In June, Akira was reissued in the U.K. by Manga Entertainment on DVD, Blu-ray Disc and as a limited cinema release. This edition was based on the American Bandai Entertainment/Kodansha master.
---
Around The Web
Emotions are heating up in the 23rd volume of Kaze Hikaru, even if we're not at a fascinating point in history.
― To speak in very generalized terms, there are two basic approaches to writing historical fiction: to loosely base around a famous event or time period or to go into much more detail about that event or era. Taeko Watanabe takes the latter route in her shoujo historical Kaze Hikaru, and as...
These pint-sized sleuths will solve the murder, unravel the international conspiracy and catch the bad guys, all before it's time for Lunchables.
― Kid detectives are a staple of children's fiction. They're the Robin to Batman, the Scooby Doo gang unraveling the schemes of adults, or the hard-nosed Nancy Drew who can't get away from a good mystery plot. Sometimes they're pint-sized versions of adult...
Core Scramble's first volume offers an interesting BL story in a world that blends science fiction and fantasy.
― We don't see nearly the level of manhwa translated into English as manga, which is a shame. Now that NetComics is back in the physical publishing game, however, there are some new titles appearing on the market, and whether you're a fan of manhwa in general or just looking for a series th...
Friend of the show and graphic designer Brady Hartel joins Zac and Hope for a rip-roaring live Q&A session wherein Zac reveals his secret monster girl crush. Also: Rokka, Dragon Ball Super and more!
― ANNCast Episode 236: What It Feels Like for a Monster Girl Get the Flash Player to see this player. Friend of the show and graphic designer Brady Hartel joins Zac and Hope for a rip-roaring live Q&A se...
Prison School is disgusting. Prison School is degenerate. Prison School is juvenile. Prison School has no likable characters. So why can't Hope Chapman tear her eyes away from Prison School? WARNING: NSFW imagery.
― I can't stop watching Prison School. I'm not sure I'd call myself a fan of the show, and I'm not sure why I can't stop watching it, but I'm definitely hooked. Unfortunately, I'm also the ...
Once you give in to the absurd, over-the-top ridiculousness of Symphogear, you'll never look back.
― Symphogear isn't a "traditionally good" show. Its dialogue is ridiculous, storytelling somehow simultaneously cliche and incoherent, and drama laid out with the subtlety of a writer who has literal hams for hands. It is a very silly show based on a very silly idea, and yet, in spite of its absurdity, ...
Ever feel your ravenous desire to consume all anime slowly fading? Do you find yourself only seeking out the small handful of shows that might interest you every year? Does that make you no longer a fan? Justin gets into it.
― Robert asks: From 2007-2010, I always considered myself a huge anime fan. I checked out every anime that came out in Japan each season (eventually sticking with no less than 5...
These three guys are attempting to create a global otaku community by encouraging communication and collaboration between otaku events (like, say Comiket and Otakon). Let's find out what they're all about!
― We had the pleasure of chatting with three representatives from the International Otaku Expo Association, an organization established this year to "encourage new developments within the wider ota...
A Silent Voice examines childhood bullying with uncommon frankness, telling an engaging story of cruelty and responsibility.
― A Silent Voice's first volume is not a comfortable read. It's slow and mean, full of small violences that make you wince and characters you just want to shake. That's not necessarily a bad thing though; in fact, it's often the best stories that make you uncomfortable, that ma...