News

Kei Sugita's Chōyaku Hyakunin Isshu: Uta Koi. Manga Gets TV Anime (Updated)

posted on by Crystalyn Hodgkins
Anime based on manga interpretation of classic Japanese poetry to premiere this summer; promo video streamed
---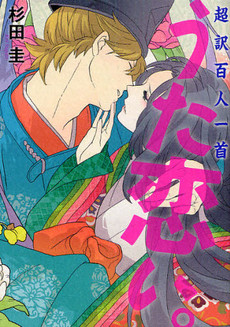 Kei Sugita's Chōyaku Hyakunin Isshu: Uta Koi. historical josei manga will get a television anime adaptation this summer from TYO Animations. NAS will produce the series, and Kenichi Kasai (Nodame Cantabile, Bakuman., Honey and Clover) will serve as series director. Tomoko Konparu (Glass no Kamen, Kimi ni Todoke, NANA) will handle the script composition. Aki Tsunaki (Harukanaru Toki no Naka de 3: Owari Naki Unmei, Miracle Train - Ōedo-sen e Yōkoso) will serve as character designer.
The official website is also began streaming a 30-second promotional video for the series.

Media Factory will publish the third volume of Chōyaku Hyakunin Isshu: Uta Koi. on April 20. Media Factory began streaming a promotional video for the third volume on Monday. More than 400,000 copies of the series have been printed. The manga tells the "super-liberal interpretation" of the Hyakunin Isshu anthology of poems that were written between the 7th and 13th centuries in Japan. The anthology features 100 romantic poems from 100 different poets such as The Tale of Genji's Murasaki Shikibu. The poems are also used as the basis for the karuta card game.
Update: More information on the Hyakunin Isshu, manga volume cover image added.
Update 2: Fixed description of the original the Hyakunin Isshu. Thanks, hyojodoji.
---