News

Disco Legend/Pokémon Theme Singer Donna Summer Passes Away

posted on

2012-05-17

13:20 EDT by Egan Loo
5-time Grammy winner sang Pokemon 2000 - The Movie theme "Power of One"
---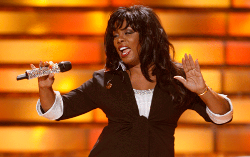 Legendary disco singer Donna Summer passed away on Thursday after battling cancer. She was 63.
Summer rose to fame during the 1970s with such songs as "Love to Love You Baby," "Last Dance," "Hot Stuff," and "Bad Girls." She continued to chart in the following decades with "She Works Hard for the Money" and "This Time I Know It's for Real," and garnered five Grammy Awards along the way.
She recorded the theme song "Power of One" for the anime Pokemon 2000 - The Movie. This song returned to the spotlight after more than decade when U.S. presidential candidate Herman Cain began quoting its lyrics during his campaign last year, but he ascribed the words to a "poet." Cain acknowledged in December that he had been quoting Summer's Pokémon song, and even sang part of it in January.
Thanks to contagion888 and ljaesch for the news tips.
Source: The New York Times
---